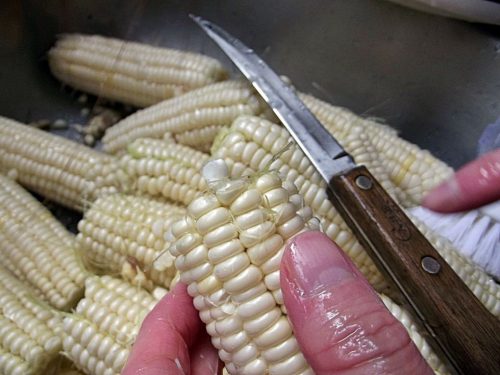 "Nothing is more enjoyable on a bright summer day than a serving of nicely cooked vegetables fresh off the vine. Such was the great eating delight of southern mountain people during the sweaty hard months of the year. Hill country gardens, brimming over with the season's bounty and situated close to homesteads, enabled housewives to fill their aprons full of beans, tomatoes, okra, cucumbers and such for sumptuous midday repasts.
Insistence on fresh vegetables  has been a time-honored tradition across the Appalachian hill country—indeed throughout the entire South. No less a nineteenth-century culinary personage than north Georgia's Mrs. Annabella Hill wrote of this freshness fetish in her 1820 treatise, Mrs. Hill's Southern Practical Cookery and Receipt Book:
Vegetables intended for dinner should be gathered early in the morning. Only a few can be kept twelve hours without detriment. When fresh-gathered they are plump and firm and have a fragrant freshness no art can give them again when they have lost it by long keeping, though it will refresh them a little to put them in cold water before cooking.
During the Depression years in the Carolina Piedmont, my father, Wade Vertell Dabney, carried out his freshness tradition in a grand manner. Every April, using one of his favorite mules, he would personally lay off his quarter-acre sweet corn patch strictly for home consumption. The site always was near our home—usually just beyond Mother's garden. Beginning with his first planting of sweet corn (an ancestor of today's Silver Queens and supersweets), he followed up every two weeks by planting another few rows. That meant that we were assured of fresh corn from mid-June right on through the summer months."
Joseph E. Dabney—"Smokehouse Ham, Spoon Bread & Scuppernong Wine"
—-
Last week a friend and I were talking about exactly the thing Dabney describes: the joy of being able to go out to the garden, get something to eat, and bring it back to the house and cook it.
When I was a girl I sometimes hated being sent to the garden for a mess of this or that, but I was always glad once I set down at Granny's table to eat it.
Tipper
Subscribe for FREE and get a daily dose of Appalachia in your inbox