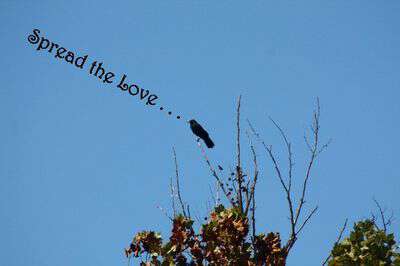 (photo by Trevis Hicks)
Wow the month of September flew by in a flash-now it's time to Spread the Love. I'm sending a big THANK YOU out to each person who took the time to comment during the month of September-you truly do make the Blind Pig a better place to visit.
Janet, Just Jackie, Julie at Elisharose, Miss Cindy, Brenda Kay Ledford, Osagebluff Quilter, Warren, Petra Michelle, David Templeton, Glenda, Fencepost, Rick's Whitetail Woods, Mary Life In A Cordwood Cabin, Paul Saltcreek, B. Ruth, Vicki Lane, Eva Nell Mull Wike, Ph.D., Sarah, Wanda, Stacey South Western PA, Lynn Legge, Pat in East TN, Jen, Sandra, Sheryl Paul, Kenneth M. Roper, Anastasia, Mike McLain, Nancy Simpson, Kenneth O Hoffman, Mamabug, Kat, Lonnie Dockery, Canned Quilter, Kathryn Magendie, Jim Casada, Don Casada, Charline, Garland Davis, Larry Proffitt, Bradley, Uncle Al, Dee from TN, Rooney Floyd, Teresa, Rachel Sliding Through Life, Luann, Ethel, Sheila Bergeron, Clint, Jennifer In OR, Melissa P Misplaced Southerner, Wanda Devers, Bill Dotson, Donna W, Sandy Carlson, Janet Pressley, PinnacleCreek, Nancy A Rural Journal , Judith, Suzi Phillips, Debby Brown, RB, Pointless Picks, Dale Anderson, Jo, Helen G, Lise, John Dilbeck , Mary Shipman, Shirla, downthelanegirl, Glynda, Sue Crane, Lisa At 2 Bears Farm, Mary Jane, Gary Powell, Ed Myers, Dolores, Grandpa Ken, Barbara Johnson, Sassy, Baking Barb, Sherie Rowe, Charlotte, Mary Rutherford, Mama Crow, Georgie, Elizabeth K, Kent Lockman, Susie Swanson, Cee, Richard Moore, Wayne Newton, Laurie Stone, NCMountainWoman, Tea4Too, Jackie Garvin, Bf, Cyndi, Barbara Gantt, Ron Banks, Jerry M. In Arkansas, Misty, Audrey, Mary Berrong, John Bobby Stonecypher, Tom, Chip D., Lewis, Susan L, Tim Mclemore, Sandy Kalvaitis, Rosann Kent, Jen, Robin Naneix, Deanna, Bob Aufdemberge, Nancy M., Bobby C., W.VA. Girl, Tony Foster, Brenda 'Okie in Colorado, Carol Isler, Kristina in TN, Bill Burnett, Leon, Madge, Kimberly, Kim at Stuff Could Be Worse, Douglas, Thurmon Allen, Ed Ammons, Laura Williams Musings, Carol, Elithea, Amy Jo Phillips, Juana, Ethelene Dyer Jones, Patty Hall, Joe Mode, Chapman Jones, Paulett Toneilli, Julia Dickenson, Amy, Judy, Jennifer Roper Daniels, Karen Larsen, Grandma Sallie, Janice MacDaniels, Christine, Lanny, Linda Kerlin, Jon Freis, Sue Nugent, Vickie, Moj, Robert, Crystal, Marian Whitley, Brian Blake, Going Green, Young Harris Bob, Alice, Nancy's Family History, Darlene Debty Kimsey, Kate, Laura Cunningham, Jeanna Morgan, Kelly, Dorothy, Shannon, Robin, Judi Dowlearn Alef, Jana, Milah Frost, Karen Twiss, Judy Mincey, Connie, Sam Ensley, Chef E Stelling, BJ Gipson Moore, Margaret, Marie Gunther, Lea, Cheryl Soehl, Dee Campbell, Kathy McConnell, Jenny-Jenny, Kay Keen, Stacy Guidice, Carol Wong, ilvalleygirl, Marj, BJ Holt, Bob, Courtney Haynes, Will Dixon, Steve in Florence KY, Jeff, Tamela, Sherry, Alica Happily Married To The Cows, Kay, rcarolinian, Paula Rhodarmer, Rhonda Jacobs, Josh, Amy, Charles Barnes, Aunt Ruth, G.A.B., Sandra Wilson, Miss FiFi, Fran, and Susi.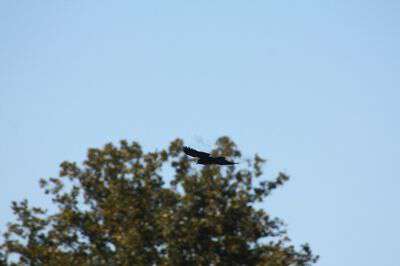 (amazing photo-by Trevis Hicks)
The month of September has been tons of fun-I especially enjoyed The Week of the Crow. And I decided it was only fitting that I giveaway a piece of my mixed media folkart-a piece titled: "Me and my Crow" for this month's Spread the Love giveaway.
And the winner is… Ethel!
Don't forget to click on a commenters name-all the ones in orange have a website. Go for a visit and I know you'll be glad you did.
Tipper