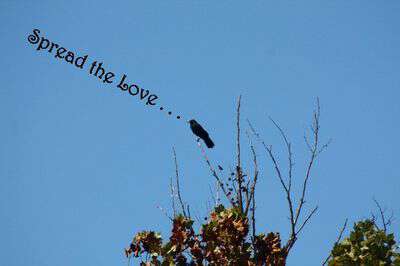 Time to Spread the Love for February! I'm sending a great big THANK YOU to:
Granny Sue,  Sandy Carlson, Betty Cloer Wallace, Louise, Farmchick, Cathy, Becky, wkf, Janet, Mary's Writing Nook, Renna, Paula, JoLyn, Kathleen, Amy, Trisha Too, Carolyn A., Just Jackie, The Texican, Glenda, Patty Hall, TOni , Leslie, Julie at Elisharose, Miss Cindy, liebe, Mary , Nancy M. , Joan J, Trainwreck, Dejoni, Debbie, TennZen, Margaret Sistrunk, Tea , Applie, Mary, Brenda Kay Ledford, Apple, Sheila Bergeron, Mark, Osagebluff Quilter, Dee from Tennessee, Marlene, Ana, Kim Campbell, Steve in Florence KY, Terry, Matthew Burns, JULIE, GrannyPam, Susan, Teresa, Vera, Warren, Threecollie, Helen G., Nancy Simpson, Sara, Judith Richards Shubert, Razor Family Farms, Lanny, Stacey, The Fishing Guy , D, Dessa, Kristi, Mary Traveling Hammer, Denese, Petra Michelle, Egghead, Lori,Michelle Karman, SolsticeDreamer, Paul Webb, Tammy, Lisa , David Templeton, Jennifer in OR, Jenny, Christy Harrill, Kikithespunkymunky, City Mouse, Noble Pig, Cherly Hoover Davis, Finnishwahine, Brit, Maria, Megan Andrews, Brenda S 'Okie in Colorado', Em, Dana, GaFarmWomanPam, Teresa Atkinson, Shirley, Twosquaremeals, Sara, Valarie Lea, Mandi, Sandra, and Jan.   
Each comment you leave-truly makes the Blind Pig & The Acorn a better place to visit!
The winner for February is…
The Texican a.k.a. Pappy! The thing is-I don't have the prize yet-so Pappy will have to wait a few days-but I promise it'll be well worth the wait! Hopefully, in a few days I'll be able to post about the exciting prize Pappy has won-so stay tuned!
Paul recently received some pretty neat kudos for a video we shared several months back. As soon as we heard the great news-I wanted to see the video again. I knew it was a great song-but also knew it was one of our first videos and couldn't remember who filmed it or what the footage looked like. After I saw it-I blushed. Chitter filmed it-and did her best rock video in and out technique with lots of foot shots. In the background-behind Paul's head-you can see Chatter doing some sort of contortionist act on the back of the couch. Oh well, I guess all that matters is Paul and Pap's great harmony and the outstanding music showed through our less than professional video capture.
Thought I'd share the video with you one more time-a great Front Range song "Way Back In The Hills".
Hope you enjoyed the song-and I hope you'll click on one of the commenter's names at the top of the post-you've never seen such a talented group of folks-and if you drop by their place I know you'll be glad you did!
Tipper