Today is the first day of Summer Vacation around the Blind Pig house. As you might guess the girls are very excited and have big plans for the coming weeks. The end of the school year, as well as the beginning, always makes me feel nostalgic. I began to remember the changes that have taken place in the world of public education since I was a student. There is always change, and that change makes each generation's educational experience slightly different than the others.
Today's guest post was written by David Templeton-Reflections On a Schoolyard Day.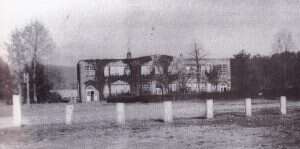 Maybe it was because I was always new in school; Mom and Dad moved us just about every time the rent was due and I ended up in a new school and some of the boys would pick a fight with me because there must have been some kind of pecking order to be determined, and sometimes I prevailed, because I was bigger and stouter than most boys my age; still, I got whipped sometimes, too.
Lots of times fights would start over shooting marbles and whether or not it was my turn to shoot or if one of the hit marbles was all the way outside the circle crudely scratched in the dirt. Or, I came to school smelling like Sweetheart soap, which was what Mom bought there for a long time, it's all I had to wash my face in and some kid would make fun of me and we'd go at it.
I don't remember that I ever started a fight; I was never inclined to bullying. Most boys were hard as rocks back then and sometimes even boys younger and littler than I was might well whip me. Fights were never any fun and I knew it and it hurt to get a shiner or a smashed lip or a bloody nose and rolling around in near-mortal struggle left scratches and cuts and bruises whether I won or not.
But I remember one school, it was a little one-room schoolhouse just above Cloud's Ford and it was called Greenvale School and the church nearby was Greenvale Baptist Church, not that that matters but I know when I was there on Sundays I sometimes felt the urge to ask for forgiveness for some of the cussing I did at school when I got in a fight or missed a marble shot or lost my favorite taw. I didn't pray out loud; I didn't want my conversation with the Lord to be overheard by my older sister, who thought of herself as my surrogate mother and she would have remembered what I said and she wasn't as forgiving as the Lord.
I hadn't been at Greenvale very long and it was hot weather, May maybe. It was first recess and it was over and we were going back in to take our seats and the teacher, Missus McCormick as I remember was her name, but it doesn't matter, she told me to wait outside the door as all the other kids went on in and then it was just her and me.
Missus McCormick took me off to the side of the schoolhouse away from the door and no one could hear her and she said, "David, you know Joe Tate, don't you? I said I did, and she said, "Joe is bad about jumping on the other kids. He pushes them, hits them, even spits on them. I could paddle him but I'm not sure it would stick". She went on, "David, if some bigger kid (Joe was in the fourth grade and I was in the fifth) was to see Joe picking on some other kid, and if this bigger kid jumped in and beat the tar out of Joe … why, I'm sure I wouldn't be around to see what happened and if somebody tattled on that bigger kid, I sure wouldn't have it in mind to paddle that bigger kid. Somebody needs to teach Joe that he can't get away with picking on other kids and being a bully. You're a big, strong kid, David. I bet you could whip Joe … now, I'm not telling you to but if somebody came to me and said you did, well, you know I don't believe every little thing all the children bring to me; I'd just have to let it go. And, if some kid taught Joe a good lesson, I would be very proud of that kid but you know I couldn't say so but he would see me smile at him sometimes and know."
And she sent me on in to take my seat and she came on in and taught classes and then lunch recess came and there was always a lot of time to play after we ate and I was down on my knees shooting marbles with some other boys and kind of watching Joe a little bit because I got the distinct impression that the teacher would be real proud of me, but she wouldn't say it, if I took Joe to task, next time he was picking on another kid.
It was a hot day, the schoolyard was dusty and the grass was yellow and dry and the girls were running all around and laughing and running from whoever was "it". Boys were playing mumbly peg or dropping knives or shooting marbles and not far from where I knelt, Joe was chasing a little girl and he caught her and pushed her down and she was crying.
I believe it was the only time that I was the aggressor in a schoolyard but I ran at Joe and tackled him and we commenced to wallow all around and fight and it was an epic struggle. He was a strong kid and I knew right off that I wished Missus McCormick had picked some other champion, because I was getting slugged, and scratched and nearly whipped but I knew I had to prevail even though I was considering backing off. I did finally prevail however, because Joe quit just before I was about to and he came up confused with big tears welling in his eyes and he said, "What did you jump on me for? I'm going to tell Missus McCormick". I knew that was okay, I was just glad he didn't have a big brother.
And, I didn't get in trouble for fighting that day but I never talked about it after that, until just now and I was looking at an old schoolhouse picture and it came back to me. Then I remembered Joe, standing there, hurt, dusty, disheveled and confused and trying desperately to hold back his big, gulping sobs and saying to me, "What did you do that for? I wasn't bothering nobody, I was just playing."
And lunch recess ended and we went in and took our seats and everybody was real quiet and Missus McCormick told us to take up our books and she taught and the day passed.
Now, many years have passed and I never tried to analyze why Joe was a bully or what else the teacher could have done. If the kids he had been bullying were now free from that intimidation then maybe I can reckon that the means were justified by that end result.
Joe never did bully the other kids after that as far as I could tell, not that May, and school soon let out and it was summer and I didn't get a bad mark for deportment and we moved somewhere else.
———————–
I don't think today's teachers would instigate a student taking on the bully like David's did, however during this past school year I was made aware of a situation in a local school that is comparable. A small group of students, about three, were continuously disrupting the class by laughing, talking loudly, and just generally goofing off. When the other students complained that it was interfering with their learning the teacher encouraged them as a group to confront the group and tell them how they felt. Unfortunately the tactic didn't work, the slackers just kept slacking.
I hope you enjoyed David's memory of schoolyards gone by as much as I did.
Tipper