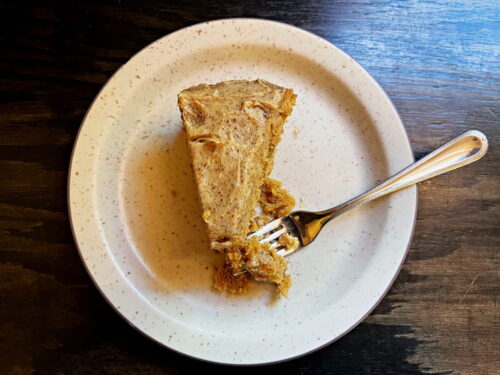 After I posted a video about drinking Postum, the company sent me a nice thank you along with several jars of Postum including some of the flavors I haven't tried.
In addition to all that, they also sent me a recipe for Postum Cake.
I finally got time to make it over the weekend.
Postum Cake
2 cups flour
2 cups sugar
1/4 teaspoon salt
3 tablespoon Postum (I used the original flavor)
1/2 cup buttermilk
2 sticks of butter
2 eggs
1 teaspoon of baking soda
2 teaspoons of vanilla
1 cup of boiling water
The recipe called for using two nine inch cake pans, but I'm sure it will work well with other sizes too. Grease and flour pans. I used parchment paper in the bottom of mine.
Mix sugar, flour and salt together.
Melt butter in pot over medium heat. While butter is melting add Postum to boiling water and stir well.
Add Postum to butter and bring to a boil; boil ten seconds.
In a separate bowl mix buttermilk, eggs, baking soda, and vanilla.
Pour Postum butter mixture into flour mixture and stir.
Add egg mixture and stir till combined. Pour into pans and bake at 350 for 25-30 minutes or till done.
Cool layers completely.
Frosting
1 1/2 sticks softened butter
2 cups of powdered sugar (or less)
2 tablespoons Postum
1/4 teaspoon salt
4 tablespoons heavy cream
Mix all ingredients till light and fluffy. I suggest adding powdered sugar a little at a time till the frosting is your preferred consistency. I used about a cup and and a half of powdered sugar. You can also adjust by adding more heavy cream if needed.
I'm not the greatest cake froster so I took the easy route of frosting between the layers and the top of the cake. It seemed like the recipe might need to be doubled to frost the entire cake. There was a note on the recipe that chocolate buttercream frosting also goes very well with the cake.
I was afraid the cake would be okay, I mean how could it not be good with all that sugar and butter 🙂 But I thought it would just be okay not really that good but not bad. I was pleasantly surprised to find I liked the cake a lot! It has sort of a mocha coffee caramel taste. The Deer Hunter said he liked it too so I know I'll be making it again.
Last night's video: The Best Strawberry Pie with Home Made Graham Cracker Crust.
Tipper
Subscribe for FREE and get a daily dose of Appalachia in your inbox