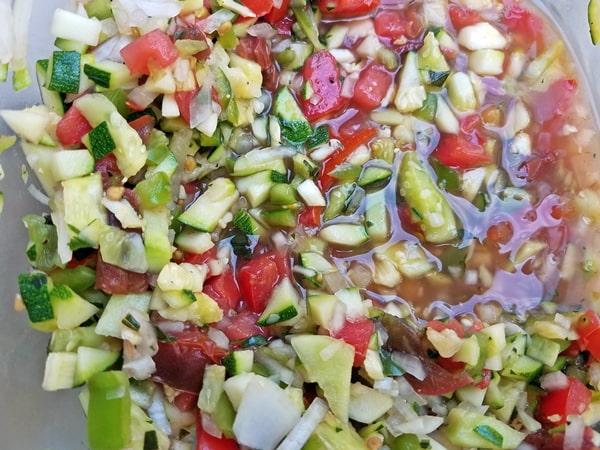 We've been making and enjoying garden salsa. The recipe varies by what we have on hand, but its all tasty!
Use a mixture of onions, zucchini or squash or both, cucumbers, tomatoes, peppers—hot or mild or both, fresh cilantro, fresh basil, garlic, salt, pepper, and whatever else you want to add. Stir in some lime or lemon juice and let it sit in the frig for a couple of hours or overnight.
The fresh salsa is great with tortilla chips and its good as a side dish. Chitter puts it on her salads and says its good that way too.
---
This week we:
canned green beans
canned tomatoes
picked blackberries and made jelly
canned our 14 day pickles
froze 8 cups of zucchini
froze about a quart of blueberries
dehydrated about a quart of small tomatoes
checked our kraut, but decided to give it another week
harvested onions and set them to dry
made a gallon of fermented dill pickles—I'll let you know how they turn out, over the years I've tried lots of dill pickle recipes and never been satisfied with them
Tipper
Subscribe for FREE and get a daily dose of Appalachia in your inbox