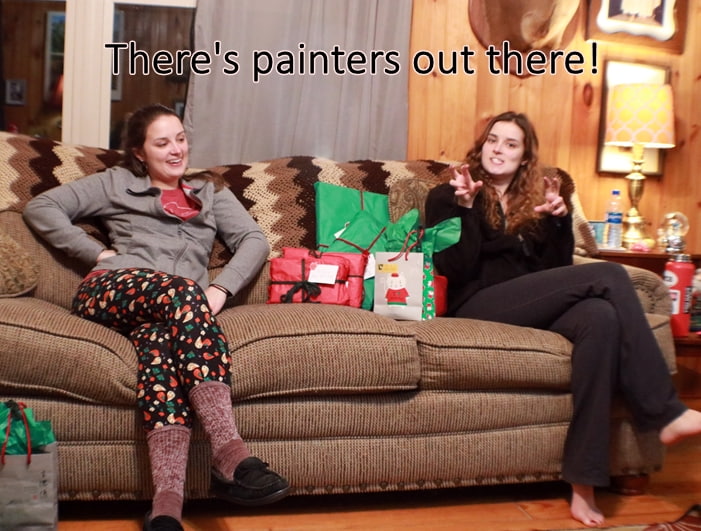 The first weekend of December found the Blind Pig house bustling as usual.
Christmas preparations were under way at home and at the Folk School. The Deer hunter contracted some sort of respiratory virus and was huddled on the couch under a blanket with a gut splitting cough.
December 8th was the annual Pressley Christmas gathering at The Deer Hunter's Aunt Wanda's in Clyde, NC. There was no way he was going to be able to make it, so the girls and I decided we'd go and come back in the same day instead of spending the night like we usually do.
We had a wonderful time as always. That's the only time of the year we get to see most of the Pressleys. There's always news to catch up on and there's good food too. You can't beat Uncle Sam's homemade soup and cornbread.
We got home that night at about 8:00 p.m. I swear The Deer Hunter hadn't moved since we left him early that morning. He was still on the couch with medicine bottles and tissues covering the floor near him.
After unloading the car and doing the things I had to do I was ready for bed. I knew after the big day 5:30 a.m. would come quickly.
I was deep asleep when suddenly Chitter woke me up screaming "What is that sound? Momma! Momma what is that sound do you hear it?"
I was trying my best to crawl to the surface of consciousness, but just couldn't seem to get there as quick as she needed me too.
I stuttered "What? What what is it, is something wrong? I don't hear nothing."
Chitter said "Oh it was horrible I think someone or some dog just died out back of the house. I was in my room and I heard the most awfullest sound I've ever heard. It was terrible! Momma! I'm afraid Molly (my niece's dog) might be dead."
Finally I said what I usually say "I don't know go tell your daddy."
In his feverish hopped up on cough syrup state The Deer Hunter was no use. When she asked him about the sound he mumbled something about it being under water parallel to the something or other.
Knowing Chitter was literally shaking from fear I begin to wonder what in the world she heard. I said describe it again for me.
Chitter said "It was just this horrific hair raising sound like something was dying or a woman was screaming."
She said she was going to take a bath. After she left my room I laid there thinking about what could be out in the darkness of the night and remembered all the tales I've heard about a painter or mountain lion sounding like a screaming woman.
When Chitter got out of the shower she came back to tell me she'd texted my niece April to tell her to go check on Molly. Molly was fine, but April had her own screaming story to tell.
About three weeks prior to Chitter's incident April was coming home from work one evening at about 7:00 p.m.
There's a long sidewalk that begins at the parking area of their driveway and leads up to the front porch.
Just as April started up the sidewalk she heard a horrifying screaming that liked to have scared her to death.
Inside the house her mother was washing up the supper dishes and she heard the sound too. At first she thought it was April playing with Molly on her way in, but after a few seconds she got scared. She said "I took off running through the house. I just knew April had somehow managed to fall and break her ankle or leg and was screaming in pain.
About the time she got to the door April was pushing her way through saying "Let me in! Let me in! There's something out there!"
I told Chitter what I remembered about folks saying a painter sounds like a screaming woman and she said maybe that's what it was.
Even after a hot shower the girl was still shaking like a leaf. I told her she could sleep with me if she wanted to and she gladly took me up on my offer.
Just as I drifted off to sleep she woke me up one more time. She'd googled mountain lion screams and found one. She said "That's exactly what I heard. I swear."
On Christmas day we all discussed the recent hearings. I said "I just wish I could have heard it." April's mother said "No you don't Tipper. Its the most terrifying thing I've ever heard. I haven't got over it yet."
Tipper
Subscribe for FREE and get a daily dose of Appalachia in your inbox