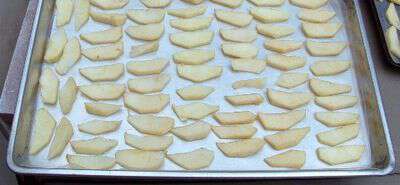 Ever eat a fried pie? Typically they're filled with a sweet apple filling, but I've also eaten delicious fried pies that were filled with peaches and chocolate. Kerns, along with other food companies, make fried pies-you can usually find them at your local gas station. But those packaged pies don't remotely come close to the yum factor of homemade fried pies.
According to The Foxfire Book of Appalachian Cookery some folks call fried pies 'half-moon' pies due to their shape. I've never heard them called that though. I found the video below on Youtube. It shows Edith Bradley, a sweet lady from Kentucky, making fried pies.
The method Edith uses to make her fried pies is like mine except I don't use dried apples. I usually cook down some fresh apples or open a jar of  applesauce for the filling.
Most older ladies in my part of Appalachia make their fried pies exactly like Edith except for Granny. Granny bakes hers instead of frying.
If you make fried pies I hope you'll leave a comment and tell me how you make yours.
Tipper