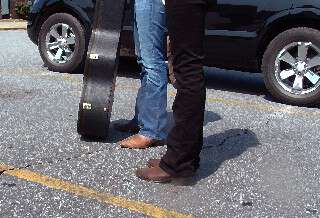 A big Thank you to all the folks who made it out to our Friday night concert at the JCCFS. It was so nice to see you in person. The show went well too-we played to a packed house-with people standing around the edges of the room. The rest of the gang do such a good job-it's easy for me to sit and pretend I know what I'm doing.
For those of you who weren't able to make it-here's a little taste of the show.
Since I was sitting on the other end of the stage-I didn't realize Chitter was sitting so far back from the rest of us-sorta looks like she was put in the corner for acting up.
The Blind Pig Gang will be back on the festival barn stage later today-2:00pm-at the JCCFS's Fall festival. Be sure to say HELLO if you make it to the show.
Tipper