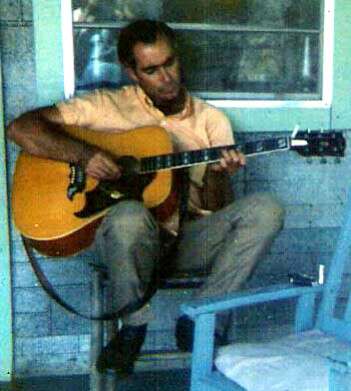 Pap has written hundreds of songs over the years. I've always liked the songs he writes, but as I get older it seems they've taken on a brighter meaning for me because I know each word is a description of what's in Pap's heart and mind.
At The Name Of Jesus is a song Pap wrote almost 10 years ago. From the first time I heard it I loved it. The song has a lonesome sound to it, almost reminiscent of the ballads Appalachia is so often associated with.
I liked the song so much, that when the girls first started singing with Pap in church I begged (then forced) them to learn it. At that young age, they thought the 'whoo' humming part was embarrassing and they never did do the song more than once or twice.
A few months ago one of us remembered the song and the Blind Pig Gang has been practicing it ever since. After hearing it a time or two Chitter was able to play the tune on her fiddle. We all agree the fiddle adds the perfect touch-it's almost like Pap wrote it way back then and for all the years in between the song patiently waited to be played with all the needed instruments.
I hope you enjoyed Pap's song. It's unlikely anyone could like it as much as I do since I'm more than prejudice when it comes to anything to do with Pap.
Over the last several months, when the song has been weaving its way through my mind during my busy days, it made me think of judgment. More than obvious Pap's pointing out the final judgment, but that isn't exactly what I've been studying on.
Maybe justice would describe my feelings more. Justice is something most people would agree they want. Yet sometimes the only justice we have is deep inside ourselves where we know what's right and we know what's wrong and that just has to be enough.
If you've been a Blind Pig reader for a good long while then you know about songs telling me stories. One Sunday afternoon as we played the song I thought of a man standing alone on a precipice with a cold wind blowing his hair and the knowledge of the evil deed he had done pushing down his shoulders with an unbearable weight. Just for a few seconds I thought "His story seems so real I think I could write a whole book about him."
Tipper