Glenda Barrett is both a native of Appalachia and a phenomenal writer and artist. Today I am honored to share one of her poems with you.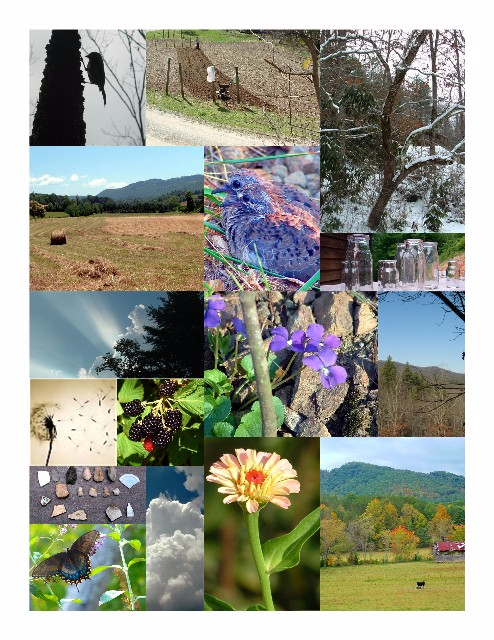 Echoes
I cannot silence
the talk of war,
a rising drug market
or the cries of the homeless.
Yet, sheltered in the Appalachians,
I can be grateful for simple pleasures:
the surprise of the first snowflake,
a newborn colt on wobbly legs,
wild violets in the spring,
pink sunsets over blue mountains,
bales of hay in green pastures,
and a freshly plowed garden patch.
Yes, I am only one,
but I can follow in the footsteps
of my faithful ancestors,
people who were truthful,
who said what they meant
and meant what they said,
who held firm to their beliefs
and rose above their hardships.
People whose voices still echo
across these Blue Ridge Mountains,
I was born here, and I'll die here!
By Glenda Barrett
I met Glenda at Netwest Mountain Writers and Poets' monthly meeting, Coffee with the Poets. When I heard Glenda read about her Grandmother, and memories of growing up in the mountains-I simple fell in love with her writing. I immediately sensed she thought of Appalachia in the same way I do-as home.
Glenda's poems and essays have been published in a wide variety of publications such as Woman's World, Rural Heritage, Nostalgia, Smokey Mountain Living, Kaleidoscope, Georgia Magazine, Farm & Ranch Living, and many more. She has recently published a book of poetry "When the Sap Rises" which is available on Amazon.com.
Not only does Glenda write about Appalachia-she paints amazing scenes from her native life. They range from beautiful mountain landscapes to farm life and everything in between. You can find them at an on-line gallery Yessy.com.
Glenda summed up her view on Appalachia by saying "the mountain life is dear to me." Dear-yes, that pretty much sums it up for me too.
Hope you enjoyed Glenda's wonderful poem!
Tipper