Today's guest post was written by Jim Casada.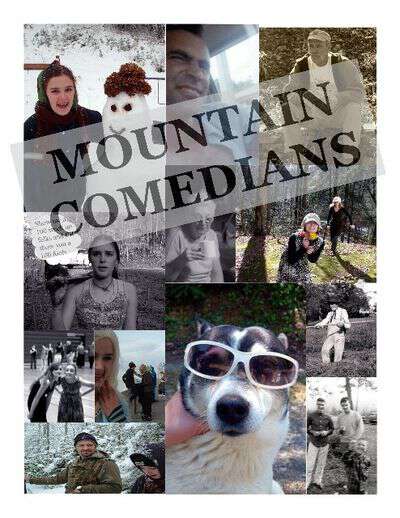 BRITT McCRACKEN: MOUNTAIN COMEDIAN written by Jim Casada
As we make our course through life, getting to know the occasional person who is just plain out funny adds spice to our existence. I've been privileged to enjoy the acquaintance of a number of folks gifted with quick wit, the ability to say something off the cuff which flat-out tickled the funny bone, or who were just natural-born humorists. My brother Don's recent poem made passing mention of one such individual, Britt McCracken, and when we exchanged e-mails on the man and our memories of him, Don suggested I share a few tales about him with the Blind Pig readership.
Simply put, Britt was one of those people who lifted the spirits of everyone around him. He was a good friend and golfing buddy of my father, and at one point in the mid-1950s he and Dad teamed up to win a little local golf tournament. It clearly meant a lot to Daddy, because he kept the trophy from that victory until the day he died. Thanks to their friendship; the fact that Britt had a daughter, Sandy, who was just a year behind me in school; and that his wife worked as a teller at the local bank where I opened my first account with the whopping sum of $15; throughout my boyhood I had ample opportunity to spend time around him. You couldn't be in Britt's presence for long without laughing, and he had an upbeat outlook on life which was inspiring. Over the years he held a number of jobs and could probably have been considered, by Bryson City and Swain County standards, an entrepreneur. He drove a bus for a while, worked at various jobs for others, and eventually managed to own businesses of his own. The one I remember best was a dry cleaning operation, but there were others.
Mostly though, my recollections focus on his gift for funny actions and quick words. I'll offer three examples, the first of which figured, without full explanation, in Don's poem. I was caddying on the little local course in Bryson City when it happened. One member of the foursome was Jack Williams, a school teacher who doubled as the local "pro" and managed the golf course. Jack was a man who was gifted athletically as well as possessing a fiery temper. As an
aside, over the course of one summer during my teens when I worked on the golf course, he must have fired and rehired me at least a dozen times.
Jack was appreciably better than the other golfers in the group, but through subtle needling, timely comments, and astute playing of "mind games," Britt had managed to even the odds quite a bit. On the last hole, with the decision in
the golf match in the offing, Jack had a short putt to win. Just as he started his downswing with the putter, Britt broke wind with a velocity that seemed sufficient to rustle leaves on the trees along nearby Deep Creek. It certainly had the desired effect on Jack Williams. He hit the putt two-thirds of the way across the green and flew into a mighty temper. Britt just grinned and said in a quiet voice: "Long ago I learned it is far better to poot and bear the shame than to hold it in and bear the pain."
On another occasion, during the period when Britt drove a bus (remember when every little town had service by Greyhound and Trailways as well as, in many cases, local buses?), he had a memorable exchange with a visiting Yankee tourist lady. His route went from Maggie Valley to Bryson City by way of Soco Gap. The steep, winding road still exists, little changed, but today most traffic uses the divided four-lane option provided by U. S. 74.
Britt was running late, with a load of locals along with the one woman straight out of New York. The climb up the mountain from Maggie Valley to Soco Gap was a slow, tortuous one with portions of the way being spent in "granny gear." All through that steep haul the woman, who had taken the seat directly behind Britt's, loudly complained about how slow they were going and how late she would be in getting to Bryson City. Britt absorbed her criticism in silence, but once he reached Soco Gap and started downhill he let that old bus roll.
Within a mile the woman, so recently worried about the slow pace, was now expressing concern about going too fast.  Within less than a mile she was suggesting that they should slow down a bit. The other passengers, used to mountain roads and a little "straightening of the curves," showed no alarm whatsoever. After two or three miles of increasingly vocal criticism about Britt's driving, the woman abruptly declared:  "Driver, if you will stop this bus I'll get off."
Britt, who obviously had heard enough, offered the perfect rejoinder:  "Lady, if I could stop this bus we'd both get off!" Needless to say, silence reigned supreme the rest of the way down the mountain.
Years later Britt was fishing a trout stream in north Georgia where the regulations called for the use of "single-hook artificials only." He was using the required equipment in the form of an old-time Colorado blade spinner trailed by a Yellarhammer fly tied on a long-shank hook. However, he had seen fit to up the odds in his favor a bit by tipping the hook with a big, juicy night crawler.
After having caught a couple of nice trout Britt happened to look down the trail which ran alongside the creek and spotted the warden coming. He desperately began jerking and snatching the spinner in a fashion which would normally have torn the night crawler off and given him the appearance of fishing according to regulations. For some reason though, the night crawler stayed on the hook, and when the warden arrived and said "reel in and let me look at your lure," Britt had no option but to follow his instructions.
When the spinner left the water and the night crawler became all too obvious, Britt said:  "Well I'll be darned. I've caught hog suckers, red horse, and even a hellbender or two on this rig, but it's the first time I ever had a night crawler hit a spinner." The warden was so bemused by this that he let Britt off with just a warning.
There are dozens of tales of this sort related to Britt McCracken, because he couldn't get through a day without pulling some kind of harmless prank (and he enjoyed those pulled on him just as much), reacting to some ordinary incident in an extraordinarily funny way, or doing something totally unpredictable. He was a joy-filled soul and made life equally joyous for those around him. Sadly, the mountains don't seem to produce as many of these delightful characters today, but to look back on them is, at least for me, an exercise in pure delight.
———————-
I hope you enjoyed Jim's memories as much as I did! I've met people who had the same streak of comedic wit that Mr. McCracken was blessed with-in fact I'm lucky enough to live with one such person-Chitter. Seemingly from birth, she's kept the Blind Pig family laughing at her perfectly timed humorous remarks and antics.
Do you know someone similar to Jim's Britt McCracken? If so-please share any funny memories you may have of them.
Tipper