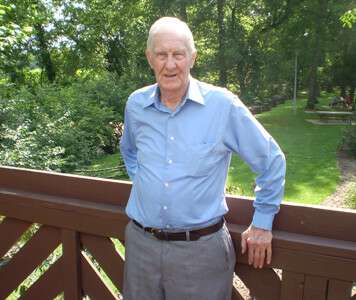 I first met Charles Fletcher over a year ago-I can't remember how we met for sure if it was through the Blind Pig or maybe through The Read on WNC. But it didn't take us long to figure out we had much in common. We both shared a great love for Western NC and East TN-the mountains-the culture-the traditions-and most of all the people. As often happens when you make new friends-we discovered we had a personal connection too-Charles's baby brother, TJ, was Papaw Tony's boss at the mill.
Charles was born on April 1, 1922 and spent most of his childhood in Haywood County NC, in the Canton area. To say Charles has led an interesting life is an understatement.
He enjoyed the childhood of many mountain boys-helping his family-roaming the mountains to hunt and fish-and finding enjoyment in the simple things of life.
As Charles neared adulthood he worked at a CCC Camp. With WWII building it wasn't long before he was drafted and sent over seas-he has memories and stories to share from those days.
Once Charles returned home after the war he was married and after attending college he received a degree in Industrial Electrical Engineering. For a while he worked at the Champion International Paper Mill in Canton but was offered a job at the new Bowater Plant in Cleveland TN. Charles accepted the job at Bowater and was there from the very beginning-it was still being built when Charles relocated his family to Cleveland.
Throughout the years of working for Bowater Charles traveled to such exotic places as New Zeland to do the work of the company. He raised a family and enjoyed life in the Cleveland area with his wife.
Charles told me he never thought about being a writer-the most writing he did was to type up engineer reports for work. After 60 years of marriage he lost his lovely wife. Charles was retired with more time on his hands and his grandkids were always asking him what it was like in the old days-so he decided to write down some of his memories for them.
Once Charles started writing he discovered he liked it-and even better other folks enjoyed reading what he wrote.
Today Charles has 4 published books under his belt and is working on a new one. The first 2-Out West And Back and The Panther On Cold Mountain and Other Stories-are true stories about Charles's life growing up in Western NC, going over seas, and his life in Cleveland TN. The second 2-Little Sam Mountain and The Sheriff are fictional stories based on life in Western NC.
Charles's was recently awarded the prestigious Clark Cox Historical Fiction Award by The North Carolina Society of Historians for Little Sam Mountain.
Charles Fletcher is one of the most fascinating men I've ever met-in addition to the interesting life he's led he's a top notch woodworking craftsman. I could go on and on about his life-but I want you to read it straight from him. I highly encourage you to read his books. The first 2-Out West And Back and The Panther On Cold Mountain and Other Stories are a must read for anyone who is interested in what life was like in the southern highlands of Appalachia during the last 80 years.
You can find his books at the Blue Ridge Book Store in Waynesville, NC or you can order them straight from him by emailing him at [email protected]
Tipper