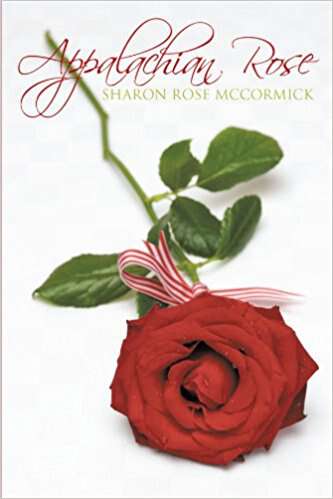 Today I'd like to introduce you to Sharon Rose McCormick-and to tell you about her new book Appalachian Rose.
I've never met Sharon in person-but having spoken with her by phone I know for certain we're kindred spirits with a common goal-to preserve and celebrate our wonderful Appalachian Heritage and Culture. Take a moment to read my interview with her-and I think you'll be as crazy about her as I am.
Sharon, tell me about your childhood-where you grew up?
I was born and raised in Wayne County in Southwestern WV.  I was the middle child of nine.  My father was a construction worker, farmer, mechanic, and all round jack of all trades and my mother, a homemaker.  My father's mother always lived with us and helped take care of us kids.  I got my artistic talent from my dad, mom, and grandmother.  I learned how to quilt, sew, crochet, embroider, garden, and cook at a very early age.  Most importantly, my grandmother gave me the love of reading.  We spent summers at the creek fishing, swimming, and bathing in the summer time. We always had farm animals to raise and slaughter, crops to tend and can, and  wood to chop.  We strung beans and had shuck beans in the winter.  We moved 21 times in 19 years as my dad's work took him from place to place.  We would wait until it was raining and flooded sometimes to look for a place to move to so we could find a place that didn't get flooded around it or in the bottoms around it.  We usually lived up a holler, across a creek, or up on a hill.  You knew when a car approached, they were either coming to see you or hopelessly lost.  My dad always drove a truck to carry all his tools for work and feed for the animals.  In summer, he, my mom, and my grandmother rode in the front of the truck.  We kids rode in the back.  When it rained or weather was bad, Daddy would put a plywood topper on it, and we would be on our way.  In winter, we just piled underneath several quilts made from wool clothing or blue jeans and went anyway.  I now have 4 grown children and live in Putnam County, WV halfway between Huntington and Charleston.  My children also embrace all things Appalachia.
Was writing something you enjoyed as a child?
By the time I was in junior high, I was already writing.  I was praised by my teachers and family for my writing and was given tons of encouragement by everyone.  My English teacher taught me the ins and outs of writing, especially poetry.  Poetry is still my favorite form of writing.  It is an elegant novel with all unnecessary words squished out, vibrant, concise descriptions, explicit nouns, and volatile verbs.  It squishes out every unessential aspect of the novel and condenses it down to its purest form.  My book is spattered with poetry throughout sandwiched between short stories. I also love writing children's books and short stories.  I don't have time to get bogged down in a long novel, and most people today don't have time or lose interest while reading a long novel.
Is Appalachian Rose the only book you've published? Have you published other things-poetry-essays?
Appalachian Rose is my first book, a long time in coming, but 3 of the poems in the book, Memories of East Lynn, The Trek, and Creeker have all won honorable mention in the Appalachian category of the W.V State Writers competition.  I  have written and illustrated children's books for kids in the family.  One poem, Boots,  was published in a book of poetry.
Seems everywhere I look I see rave reviews about your book-what was the idea behind it?
My book is mostly humorous because I believe humor helps relieve stress and makes all the bad in life bearable.  I do have a section of Thorns in my book about some of the bad in my life.  It is written as poems.  Poetry lets me talk about the bad, get it out of my system and move on.  I have stories handed down from my parents and grandmother.  I have funny and passionate stories of church, experiences teaching the mentally impaired class for 20 years, coaching Special Olympics, and a couple of  creative writing pieces.  Different people have been buying it for the varied material in it and because they also are interested in the Appalachian culture.  The material in this book is writing that I have done and hung onto over the past 30 years.  It was only after I raised my 4 kids by myself, and I became disabled and off work that I actually had time to put it altogether in manuscript form.
Where can folks buy Appalachian Rose?
Appalachian Rose is available at authorhouse.com which published it.  It is also available at amazon.com, booksamillion.com, target.com and other online book stores.  I will also be selling it at various locations this summer in person.  I have applied to Tamarack, our state Appalachian store in Beckley to be juried for sale there.  I would consider that a great accomplishment because only the best representation of the state's culture is sold.
Do you think it's possible to weave the old traditions into our modern day lives?
I think it is possible to weave old Appalachia into the new.  However, having to spend so much of education's time is now spent on reading, writing, science and math, not much is left for the study of history and culture.  Children in this state study WV History in the 4th and 8th grades.  But that is more than other Appalachian states.  There are Civil War Days, the Mary Ingles trail, numerous outdoor theaters, state parks and forests, and downhome days.  One of the largest events is the WV  State Arts and Crafts Fair at Ripley ever year the week of July 4th. So many people of old Appalachia have spent years trying to outlive the stigma of the drunken barefoot hillbilly, that they have thrown out all the good stuff.  What I would really like to see happen is that the people of modern day Appalachia weave the good traditions of the old Appalachia into their lives.  We have many people transplanted here.  I want them to learn about and appreciate the culture of the people that have been here for centuries.
Do you see a hunger for the old timey customs and traditions of Appalachia in your area?
One of the largest economic assets in WV is our tourism industry.  People come from all over the country to partake of our scenery, rivers, and culture.  Sales of arts, crafts, music, and writing are at an all time high.  It seems as the economy worsens there is more of a need for people to look back to their roots, and in many cases to come home to the hills and mountains of Appalachia.
Is there anything else you'd like for my readers to know about-your writing? Where you'l be book signing or reading excerpts from it?
I have been under the weather for a while, but I'm feeling better now.  I hope to be doing readings and book signings in the Huntington-Charleston area of WV this summer, and I am teaching a creative writing workshop at Putnam County 4-H camp in June.
When you hear the word Appalachia what comes to mind? Can you sum up what you think about it in a few lines?
When I hear the term Appalachia I always think of the mountains and how they change with every season of the year, then I think of the people of Appalachia, the true heart of Appalachia.  We are a hearty people with one of the best work ethics in the nation.  Pay it forward is centuries old in WV.  I help you today.  You don't have to help me tomorrow, but you will help someone else in the same spirit that I helped you.  We are an extremely charitable people giving more of our meager means than most people with much more financial means.  We are first to help in a crisis and first to join the military.  We are proud, but not puffed up.  We are the heartbeat of Appalachia.
I hope you enjoyed the interview with Sharon Rose McCormick-and I hope you'll pick up a copy of her book Appalachian Rose-cause I  know you'll enjoy it!
Tipper