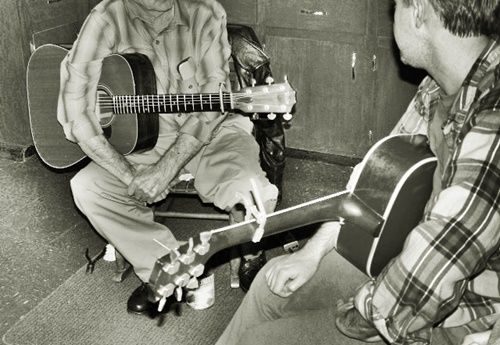 Back in April, after the Blind Pig & The Acorn's eleventh birthday, I started sharing my favorite "Pickin & Grinnin' in the Kitchen Spots." After about three videos I got side-tracked by current Pickin & Grinnin' Spots.
I've always loved the old hymn "Pass Me Not" written by Fanny J. Crosby (1820-1915). I've read two different stories detailing how Crosby was inspired to write the song.
The first: Crosby was visiting a prison as part of a missionary group when she heard one of the prisoners cry out "Lord please don't pass me by."
The second: Crosby dreamt that the Lord was walking through her church touching people as he went, she began to pray the Lord would touch her and not pass her by.
I'm partial to Pap and Paul's version of "Pass Me Not."
We uploaded the video in January of 2010 and after all these years its still at the top of my favorites list.
I like how Paul reminds them he's going to do a turn around instead of a break; I like how Pap calls out the first line of the verse to Paul so he remembers; I love the amazing harmony that sounds like a baby's lullaby; and I think Pap's tenor harmony on the words Savior, Savior on the last chorus is one of the sweetest things I've ever heard.
Tipper
p.s. You can catch The Pressley Girls over the next few weeks at the following places:
TODAY – July 14, 2019 @ 2:00 p.m. Festival on the Square – Hayesville NC
July 19, [email protected] 7:00 p.m. Historic Union County Courthouse – Blairsville GA
July 27, 2019 @ 8:00 p.m. Vogel State Park Blairsville – GA
August 3, 2019 @ 8:00 p.m. Mountain Dance and Folk Festival – Asheville NC
August 17, 2019 @ 2:10 p.m. Swain County Agriculture Fair – Bryson City NC
Subscribe for FREE and get a daily dose of Appalachia in your inbox