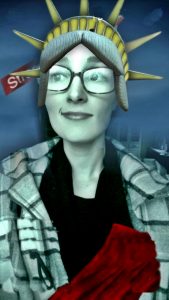 1. Just like the rest of the country, Snap Chat has taken Appalachia by storm…at least the younger generation anyway. One day Chitter entertained Paul and me with the latest filters that were available. Things like turning yourself into a deer, a dog, or the Statue of Liberty. I said "You should show Granny and see what she has to say about that mess." Paul said "Well it will be one of two things: she'll either be scared or thinks its cute." A few days later Chatter showed Granny the filters on her phone. Paul was almost right. She thought some of them were cute and she thought some of them were scary. About one filter she said "Oh who'd want to make themselves look that awful!" I don't snap chat nor am I very fond of the idea of it, but its like one of my co-workers said "It is what it is. Whether we like it or not-it's here."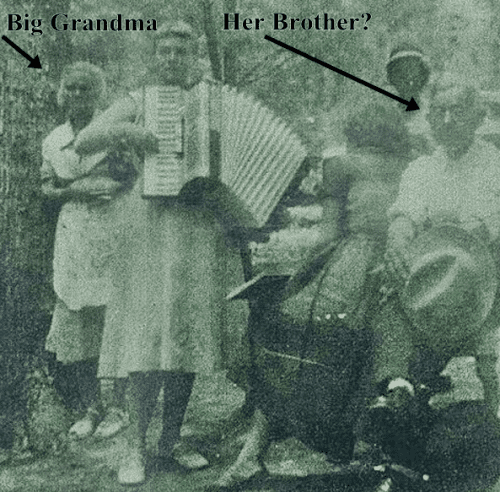 2. The girls have performed as part of Vogel State Park's Summer Concert series for the last several years. After last summer's gig we were thrilled when a family member shared the photo above with us. Back in the day The Coleman Family held their yearly reunion at Vogel. I'm not sure who the lady with the accordion is, however it's very clear that Big Grandma (Carrie Coleman Elliott Wilson – Pap's grandmother) is standing against the tree and I'm pretty sure the man with the hat is one of her brothers because I've seen him and the hat in other photos that are noted with the names. Big Grandma played the piano in church. Although her piano playing days were over by the time I came along, Pap had fond memories of her banging out the songs as the congregation sang along. Pretty cool piece of history for The Pressley Girls and me.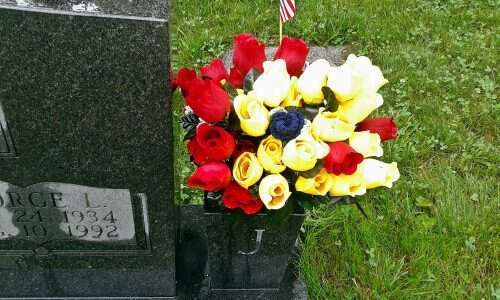 3. Granny made crocheted flowers to go on the graves of her family member's at Shady Grove last spring. You can see the navy blue one she stuck in the bouquet on her brother George's grave. I've been wondering how the flowers have held up through the weather. She made a crocheted wreath for every season for Pap's tombstone. I've barely been to Pap's grave since he died. It's like I don't think he's there, so I don't think about going. When I feel like I need to be a little closer to Pap I go to Granny. I know Paul and Steve keep a close check on his grave though and that makes me feel better about not going myself.

4. Chitter and Chatter both have music saved to their phone. Most of the time if they're working on something they wear ear buds and I'm shut out of hearing the tunes…sometimes that's a good thing especially in Chitter's case. Chatter's more likely to be listening to something that I like and recently I've heard a whole lot of Gene Watson coming out of her phone. I've been reminded of how much I love his voice and reminded of how I used to listen to 14 Carat Mind over and over. I wasn't even a teenager yet when the song came out, but somehow it drew me in. I was certainly familiar with men who had a saw mill occupation and even at that young age I suppose I was already familiar with the fact that adults had problems to, some of which they seemed to bring upon themselves. Go here to give the old song a listen.
5. The girls and I were headed out one evening before Christmas and we spotted this rainbow before we even got to the main road. They made me stop so they could take a picture. After I looked at it I was glad they did. Dark and gloomy below but the wonder of the rainbow says it's not so bad after all.
My heart leaps up when I behold
A rainbow in the sky:
So was it when my life began;
So is it now I am a man;
So be it when I shall grow old,
Or let me die!
The Child is father of the Man;
I could wish my days to be
Bound each to each by natural piety.
[Wordsworth, 1802]
Tipper