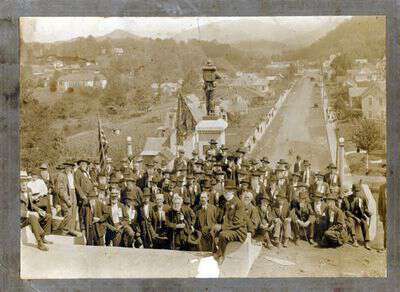 Excerpt from the WCU Digital Collection – Taking the Train Sylva, NC
On September 18, 1915, a crowd estimated at 3,000 people arrived in Sylva to attend the dedication of the Civil War monument, located prominently on the steps of the new Jackson County Courthouse. The size of the gathering was made possible in part due to the railway passenger service. The Jackson County Journal (Sylva, N.C.) newspaper observed in its September 24 issue that,
"The whole order of the day was surcharged with interest and thrill from beginning to end. Early in the forenoon the crowds began to gather and the streets of the little `gem of the mountains' were alive and astir. Every train brought crowded coaches, and long processions of wagons, buggies, carriages and automobiles, flanked and re-inforced by riders on horseback, could be seen converging upon the capital city of the county."
As seen in the photograph, the monument 's supporters wanted to honor surviving veterans of the Civil War, whose numbers were diminishing yearly by 1915. At the time of the dedication, the Great War – World War I – had already raged in Europe for a year, and the United States' involvement was barely a year and a half away. The ceremony also sought to celebrate the hopes for economic growth and an optimism for the future. The Jackson County Journal summed up the outlook by declaring that,
". . . . the citizenship of Jackson County and of Sylva received new inspiration to look forward to the brighter and better days yet to dawn."
————————-
Tipper
*Source: Travel Western North Carolina Western Carolina University Digital Collection.