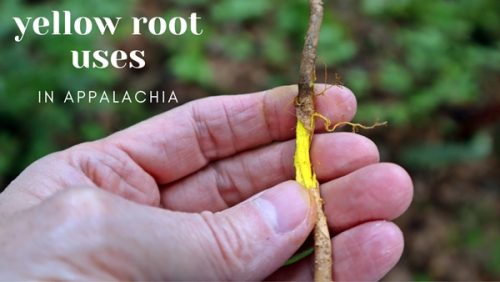 Last week I stogged through the woods down the road to find some yellow root.
Yellow root grows along creeks and other waterways in my area of Appalachia.
Yellow root tea can be used for stomach aliments. Use dried or fresh yellow root to make a tea-use 1/4 oz. yellow root to 16 ozs. of water. Strain the tea and allow it too cool before drinking. Drink a little of the tea when symptoms occur and store the rest in the frig to use as needed.
A salve made with yellow root can be used to heal dry skin or chapped lips.
Yellow root can be used to heal mouth ulcers, gum disease, and sore throats. Infuse a cup of water with 1 or 2 teaspoons of dried yellow root and then gargle with the mixture for a few minutes.
Crush dried yellow root and sprinkle into cuts or abrasions to prevent infection.
Help me celebrate Appalachia by subscribing to my YouTube channel!

I find natural remedies fascinating and wish I had more experience using them.
If you use yellow root please tell us about it.
Tipper
Subscribe for FREE and get a daily dose of Appalachia in your inbox