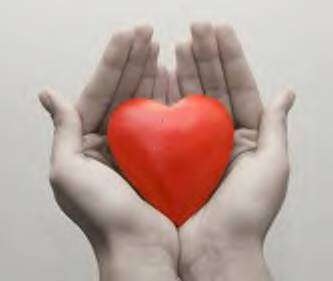 I can't believe I have actually blogged for a month. Well, not exactly, but almost. Only seven days left until my first monthly giveaway Spread the Love. To be entered all you have to do is post a comment on one of the posts (here on this page) or jump to the Grannyism page and leave a comment about your Granny. (if you have already left a comment you are already in)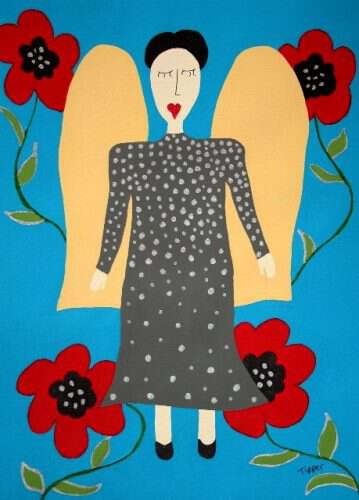 For my first giveaway I chose one of my paintings "Ms. Spot"
Frame and all it measures 18×14. I used acrylic paints on water color paper, it has a reclaimed frame, and a wire hanger. I have been painting Angels for several years now. I started out just doing it for me and was so pleased when I found other people liked them too.
I try to use reclaimed items whenever possible in an effort to be "green" for the world. Mostly I like to use reclaimed items because I'm thrifty and I love to take something that no one wants and find a use for it.
Someone once ask me "why do you paint all the Angels' eyes as though they are closed?" My first thought was, they are so much easier to paint. But later, as I pondered the eyes and even wondered if I should start painting them to look open, I realized there was another reason. By looking in someones eyes you can see what they feel, who they are. I've already shared with you that I'm a shy person, but I'm also a private person. One of the best things about blogging is the opportunity to write for people who don't know me. And even better, I don't have to leave home to do it.
People from here would call it being "backward". I don't like to share my feelings with many people-sometimes with no one. My Dad has a word "toucheous". When I was growing up and was in one of my disagreeable quiet moods he would ask me "Tipper why do you have to be so toucheous?" Just him asking made me mad, sad, indifferent, rebellious or a combination of all of those feelings.
I have read books and articles that highlight the independent, isolated, spirited, determined Appalachian people. Some of the material claims these traits can be traced back to Ireland and Scotland where many of the original Appalachian settlers came from. I don't know. How could those same traits be passed down from generation to generation? Things change, the lives of native Appalachians today could hardly be compared to those that first settled in the hollers and coves. Yet, I relate to the descriptions given of the quiet, backward, independent, toucheous, spirited Appalachian people.
Maybe I'm the only one who has these feelings, maybe I'm just an ornery person. Post a comment, let me know what you think and how you feel, Ms. Spot needs a home.
Tipper
Excerpt from Mountain Voices by Warren Moors: If I had to go into the city and live. I'd soon die. I have a bad headache if I go to town. And just as far as I can, I stay away from places like that. That's one reason why I haven't traveled any more than I have because, well, I just don't like it. I just want to be in the mountains, and be quiet, and be left alone, and be free. Nancy Suttles