Today's post was written by Paul.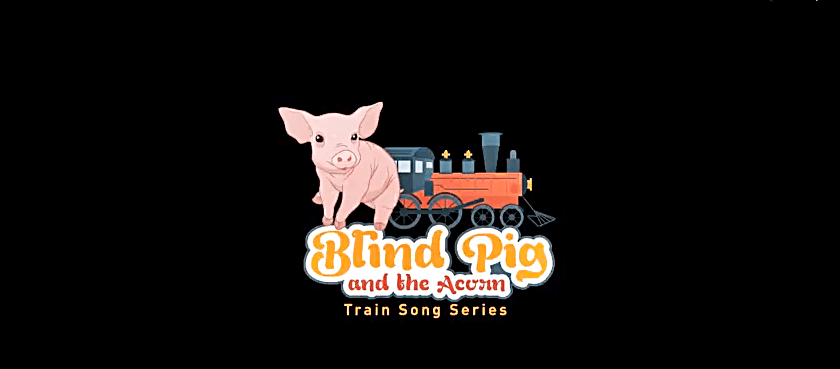 In 2017 we declared November to be Train Month on our Blind Pig and The Acorn Youtube Channel. There is no national train month that we could ascertain. Once upon a time, Amtrack designated May as National Train Month, but they discontinued the designation after a few years.
We got the idea of doing a video series from Gary Chapman, who does a hymn per week on his Youtube channel. I didn't want to copy him completely by doing hymns, although I know enough hymns to keep me busy for years. I asked myself, what's another subject that is widely covered in Appalachian music? I soon thought of trains.
I quickly realized after doing a count, that I probably know at least 30 or 40 train songs. Originally, I wanted to do one a day for an entire month. I then realized that even though I have enough material for that, I don't have enough time to film and upload every day. We decided to just do one per week, and that way, we can do the train series annually.
We also decided that every song would be filmed and uploaded in just one take. This would leave some mistakes, but would save time and might lead to performances that were spontaneous. We also decided it would be fun to feature some of our other musical friends and acquaintances, having them join us on songs that they knew of but perhaps had never played before.
We hope you like the series. If you're not a member of Youtube its free to join. Once you have an account on Youtube you can subscribe to all manner of channels, including the Blind Pig and The Acorn Youtube Channel for free.
Here's info on the first Train Song – "On the Evening Train."
This Hank Williams song is a real tear jerker. Even though it's sad, I always find the melody and lyrics beautiful. Wayde Powell, II gave me a copy of an album in the late 90's of the Larry Perkins project. This song was on it, as was "Touch of the Past," a song that Pap and I learned and sang together.
On Perkins' cut of "On The Evening Train," the great John Hartford played fiddle, dragging out the notes in such a lonesome way, it seemed the fiddle was crying. Chitter did a great job as well, especially considering that she had only heard the song twice before playing it. That's part of the premise of our train song series: hooking up with different local musicians and attempting off-the-cuff performances of songs in one take.
When Chitter listened to the song the night before we shot this, she mistakenly thought I meant for her to learn to sing the song, so she focused on the lyrics, not how to fiddle the tune, but it worked out ok and we were able to film the song in one take anyway.
High C seemed to be Perkins' key of choice for solos, and he could do them there comfortably without resorting to falsetto as many high singing bluegrass singers do. I knew this song would be high in the key of C, but it was even higher than I expected. If you look closely, you can almost see a look of surprise exchanged between me and Chitter when I reached the second high note in the verse. 🙂 Anyway, we're looking forward to sharing this year's series of songs, and we promise not to make them all this sad.
I hope you enjoyed the first song of this year's Train Series! Paul is right its a real tear jerker, but the lyrics are so full of moving emotion its hard not to want to listen to it over and over. Paul's voice and Chitter's fiddle add just the right note of lonesomeness.
Tipper
Subscribe for FREE and get a daily dose of Appalachia in your inbox