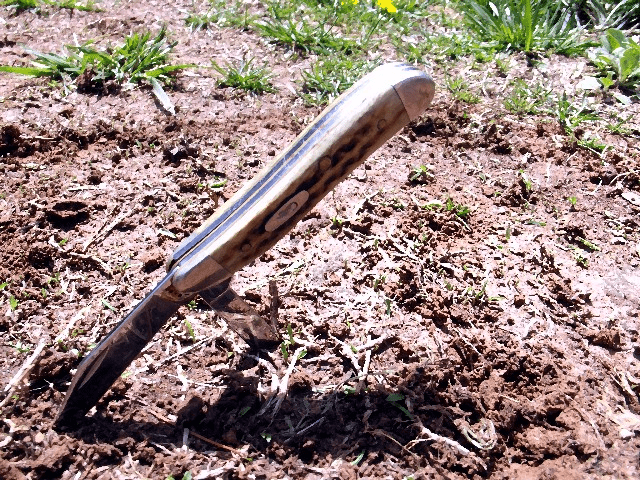 Mumbly peg (or mumble peg) is a game I've seen boys play during my lifetime. I've even seen grown men play it once or twice. I've never played it.
The game is played with various rules depending on whose doing the playing. The general gist of the game is: a circle is drawn in the dirt; the players take turns trying to flip an open pocket knife off their arm or balled up fist and make it land in the circle.
I've seen it played where you start with the knife on one knuckle and as you flip the knife and get it to stick you move to the next knuckle. The Foxfire 6 Book shares a version of the game where you keep moving the knife up-starting on your fingertips then moving to your elbows, shoulders, and eventually your head! Trying to flip the knife so that it sticks in the circle drawn on the ground. The version of mumbly peg in the Foxfire 6 Book details the game as being a point system-for example if the open pocket knife sticks straight up on the large blade you get 10 points. If the knife sticks like the one in the photo above-you only get 5 points.
Some versions of the game end with the winner getting to keep the knife.
Have you ever played or seen mumbly peg?
Tipper