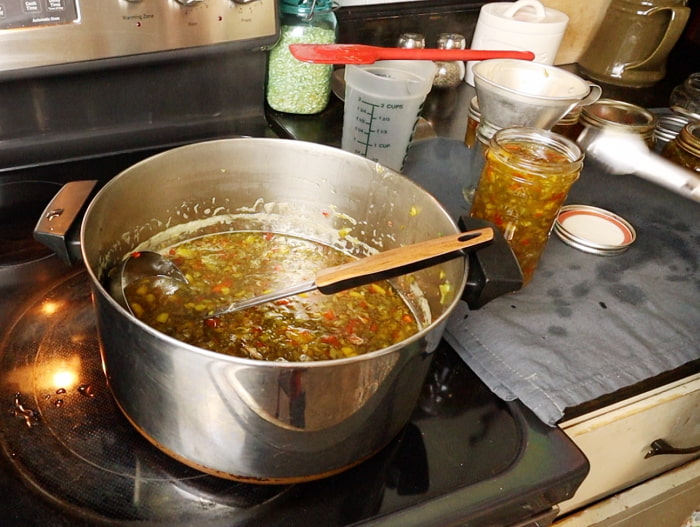 We finally had our first hard freeze over the weekend. I knew it was coming and went out in search of anything that wouldn't survive in the garden. I picked a big bowl of peppers.
Since I'd already put some in the freezer and dried some I decided to make pepper jelly.
I had a mixture of peppers—green, yellow, and red. All sweet peppers. You can make pepper jelly out of a mixture of peppers, even hot and sweet, or you can use all of one kind. Red peppers make an especially pretty jelly.
Pepper Jelly
4 cups finely chopped peppers
1/2 cup apple cider vinegar
1/2 cup water
1 box pectin
5 cup sugar (or 3 cups if using low sugar pectin)
Add peppers, vinegar, and water to a sauce pot.
Add pectin and stir well. (You'll need to read on your pectin for the correct way to add it. It used to be added directly to mixture, but the box I used said to take 1/4 cup of the sugar called for and mix with pectin and then add it to the pot.)
Bring pepper pectin mixture to a boil. Add sugar all at once and stir to mix.
Continue cooking until mixture comes to a full rolling boil. Boil for one minute.
Pour jelly in sterilized jars and seal.
Canning books indicated filled jars should be waterbath canned for 10 minutes.
I feel comfortable using the open kettle method of canning jelly which means the jars are hot and the jelly is hot and as the jars cool they seal.
After 24 hours check jars to make sure they have sealed. If you find one that hasn't, pop it in the fridge and eat it first.
We love to eat pepper jelly with cream cheese and crackers. It can also be used in marinades. My favorite way to eat it is smeared on a piece of fried cornbread.
---
Last night's video: Fall of the Year in Appalachia.
Tipper
Subscribe for FREE and get a daily dose of Appalachia in your inbox