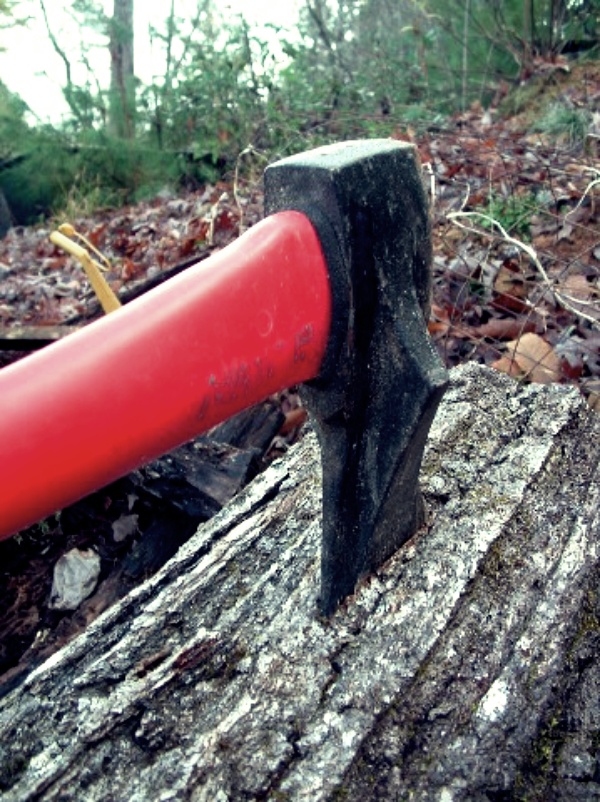 go devil noun A heavy maul for splitting or chopping logs, usu having a hammer on one side of the head and a dull wedge on the other. See 1939, 1974-75 citations. For figurative use, see 1944 citation.
1939 Hall Coll. Proctor NC = a hammer on one end and a kind of wedge on the other— to split logs with, a little sharper than a wedge, used like a wedge, only you strike with it (Lawerence Jones) 1944 Wilson Word-list 43 = a heavy ax used to split logs. "You won't [stay at home], less'n it's raining go-devils." 1967 Parris Mt Bred 134 "Right there," the woodhick pointed, "right there on the wall next to that go-devil or pointed hammer is a J-hook." 1973 Brower Split-Rail Fence Webb examines the end of a log to be split to determine where to place his wedges. Then he drives the wedges into the log with a tool he said the old-timers called a "go-devil." Chestnut logs split cleanly. Locust logs splinter and must be coaxed with an ax. 1974-75 McCracken Logging 24:21 = a form of ax and hammer together.
Dictionary of Smoky Mountain English
---
It's go-devil time around the Blind Pig house. The Deer Hunter has been splitting wood for the winter. Funny he has a wood-splitter but he says putting the logs on to split hurts his joints worse then using an ax and go-devil to split the wood the old time way.
---
Ken's dog situation has been resolved!
Tipper
Subscribe for FREE and get a daily dose of Appalachia in your inbox