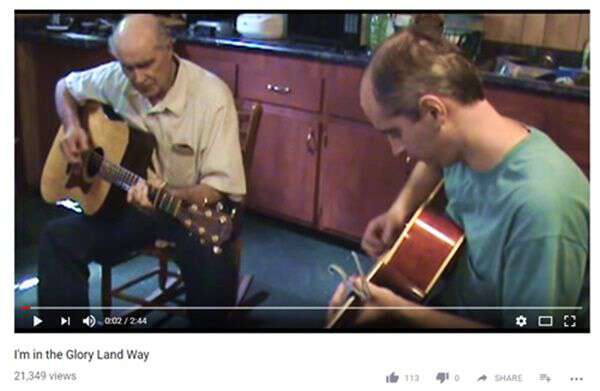 The Blind Pig's 10th birthday is coming up quick. The event has had me thinking back to the first posts I published on the blog. "The Gloryland Way" was among the first videos we filmed for my Pickin and Grinnin in the Kitchen spot back in 2008. The song has had over 21,000 views on youtube. To see why so many folks like it, all you need to do is give it a listen.
J.S. Torbett wrote the song. To read a very interesting article about Torbett's life and how he wrote the song jump over to this page.
Things I like about the video:
Paul and Pap's amazing harmony
Pap's shining tenor voice
Paul's awesome flat tip picking
How young my nephews Ben and Mark were
The way Paul looks at Pap as though looking at him will make the harmony better
The way Paul nods at Ben asking him if he'd like to take a break
The way Pap lines out the song for Paul-giving him the first few words of the verses
The way Pap looks up on the last verse when he says soon I shall see him in that home above
Hope you enjoyed the video too!
Tipper
Subscribe for FREE and get a daily dose of Appalachia in your inbox