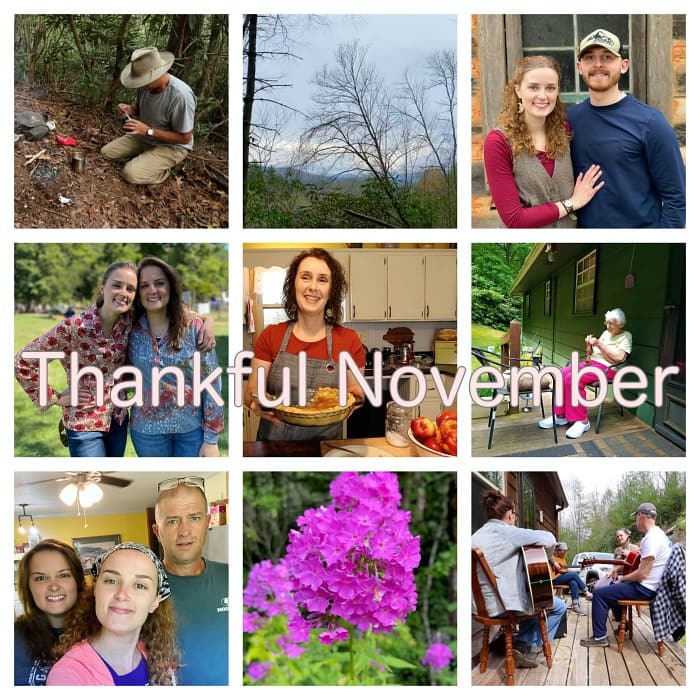 Here's the round up of the last several winners from my Thankful November Giveaway series.
The winner of "Appalachian Values" by Loyal Jones is Martha D. Justice who said: "Congratulations to all the winners! Just another blessing to be Thankful for. Happy Thanksgiving friends."
The winner of "A Smoky Mountain Boyhood Memories, Musings, and More" by Jim Casada is Kathy Gautier who said: "Love Jim's writing. I know I would enjoy this book. On my list of things I am thankful for you will find both Tipper's writing and Jim's. So enjoy writing that reminds me of growing up country. Thank you Tipper and Jim."
The winner of "Dorie Woman of the Mountains" by Florence Cope Bush is Debbie Tou who said: "As a small child I remember my dad carrying buckets of water from the spring in the edge of the woods. It was used for drinking and cooking. Water for washing dishes and clothes was carried from the small fast running creek below our house then heated atop the wood-fired kitchen stove. We thought we were in high clover when we got cold water piped into the kitchen. (There's an expression for you, Tipper!). But it was several years later that we got an electric water heater. Now that was indeed the lap of luxury! I'd love to have the "Dorie Woman of the Mountains" book."
The winner of "Smokehouse Ham Spoon Bread & Scuppernong Wine" by Joseph E. Dabney is John Hart who said: "Liver pudding is the best!"
The winner of Allison Britt's notecards is Jackie who said: "Allison sure does have talent. I have to have a straight edge to draw a straight line. My wife paints beautifully and draws figures on wood for me to cut out. I can't draw them but I can follow the lines."
The winner of "A Foxfire Christmas" is Sharon Cole who said: "Would love to read this book. Take care and God bless!"
The winner of "Great Smoky Mountains – Natural Wonder – National Park" Photography by Adam Jones Text by Steve Kemp is Robin Haupt who said: "It has always astounded and fascinated me how resourceful, strong and hardworking the people of Appalachia were and are. Can't wait to call it my home one day."
The winner of Pap and Paul's original version of "Songs of Christmas" cd is Angelyn McLain who said: "Christmas music has changed for me a little. I have found that the old favorites tend to make me teary eyed. To many losses and changes. However, when I focus on Jesus and listen to those songs I am comforted. I love the music that you and your family play and I especially love the Christmas one. Merry Christmas!"
The winner of Pap's cd "Live at John C. Campbell Folk School & On Radio" is Charles Ronald Perry, Sr. who said: "Beautiful and Pap really leaves a legacy with all of you to carry on his love of music."
Winners, please send your mailing address to me at [email protected] and I'll get your item in the mail.
Several folks asked about purchasing Allison's beautiful notecards, unfortunately at this time she doesn't sell them online. If she ever does, she'll let us know.
I've never thought to share the method I used to pick giveaway winners, but it might be something useful for you to know in case you needed to draw a random name or number for something you were doing.
I use a Random Number Generator. I enter then number of comments on the giveaway post, click for the generator to give me a random number and then go find that comment number. The comments are in order from first to last, so I assign the first comment number one and go forward from there.
It's a handy little tool to have use of, much quicker than writing down names and drawing one from a hat.
---
Last night's video: Treasured Christmas Decorations from Appalachia.
Tipper
Subscribe for FREE and get a daily dose of Appalachia in your inbox