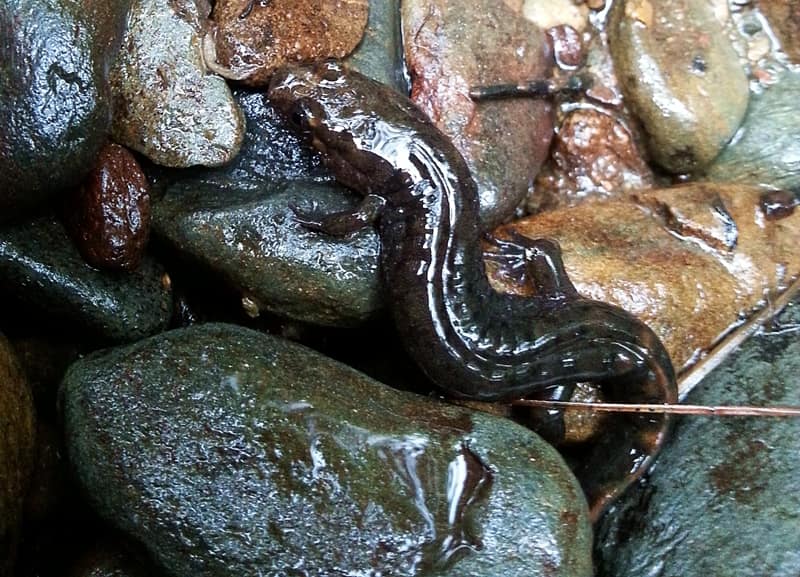 1995 Adams Come Go Home 2 We had turned over rocks in the branch so we could watch the spring lizards jump straight up and then slither farther into the mud to be as still as death.
Dictionary of Smoky Mountain English
—-
Back in the day us kids spent a lot of time looking for spring lizards in the creek. Even today I can hardly pass the creek without turning over a few rocks to see if I see one.
I was good at catching them. You have to be quick and not afraid to stick your hands under rocks and mossy creek banks.
Years ago it was fairly common for kids from Wilson Holler to make a few extra bucks by catching spring lizards to sell. They make dandy fishing lures, although I believe its now illegal to catch spring lizards.
Spring lizards farther up the creek are bigger, faster, and wilder. Reminds me of how Pap used to say once you get out of the settlement of people things are different in this ole world.
A few years back Gina, a Blind Pig reader, commented that she didn't see a spring house until she was about eight years old and was shocked when she spied a small lizard running around the edge of the water.
Gina's comment easily explains how the term spring lizard came about.
Tipper
Subscribe for FREE and get a daily dose of Appalachia in your inbox