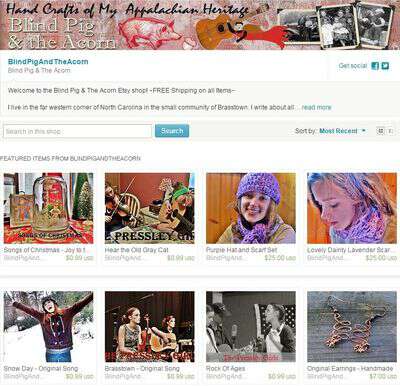 I have some exciting news to share with you today. I have reopened the Blind Pig & the Acorn Etsy shop! I used the Etsy Shop when I first started the Blind Pig & the Acorn but somewhere along the way I stopped keeping it stocked.
A few reasons I opened the store again:
Chatter and Chitter are creators on steroids! They have learned to crochet and are whipping up scarves like you've never seen. They're getting better with each one they make.
Chitter has been making earrings and necklaces for almost a year and I think they're absolutely Etsy worthy.
Granny continues to produce more crocheted items than any of us can use.
I figured out how to sell the downloads of our songs! For several years people have been begging us to just sell what we have instead of waiting on the cd we never seem to have time to make. So now we are!
Chatter and Chitter are in college. In college. 2 at the same time. I'm sure if you paid for college for yourself, for your child, or for multiple children at the same time-you know how hard it is on your pocket book.
When I first started this blog I wanted to profile artists/crafts-people from the area and help promote their offerings. I was so busy building my readership that I never got around to profiling hardly anyone-but it's never to late to start right? I believe re-opening the Etsy shop will keep me focused on that goal.
You now have the opportunity to shop in the store-purchasing items made by Granny, Chatter, Chitter, and me along with music made by us all. The shop is convientely divided into Music, Crochet, and Jewelry.
You'll also have the opportunity to read about things we're making or things other folks are making in a new series called Art Craft Etsy.
I hope you'll help me spread the word about the store-tell your friends and family-and if you have an online presence like a blog or facebook page-give the Blind Pig & the Acorn Etsy Store a shout out on it.
Want to check out the store? Go here. You can also click on the link in the right sidebar or any of the photos in the Etsy widget.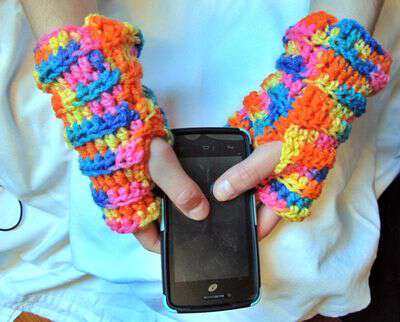 In honor of the Blind Pig & The Acorn Etsy Store opening I'm giving away a pair of Granny's rainbow colored fingerless crotchet gloves. The girls love these gloves-because they keep their hands warm while still allowing them to use their smartphones. To be entered in the giveaway-all you have to do is visit my new store, then come back here and leave a comment telling me what item you liked best. *Giveaway ends Wednesday November 26, 2014.
Tipper