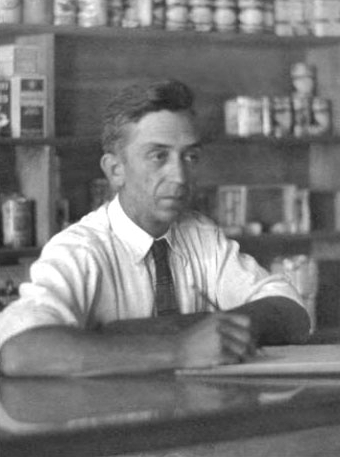 Fred O. Scroggs – Photo by Doris Ulmann
Fred O. Scroggs, native Brasstownian and store owner, is credited with convincing Olive Dame Campbell to build her Folk School in Brasstown.
Olive and her friend Marguerite looked at several locations before choosing Brasstown.
Over the years the role Fred O. played in the Folk School being established in Brasstown has reached legend status, at least in the circle of the Folk School.
On one trip to the area Marguerite discussed the idea with Fred O. and told him they would revisit Brasstown in the future to see if there was any interest in the school being built.
By the time Marguerite returned, Fred O. had rounded up over 200 people to meet with her. Most of the crowd came with promises of support.
Apparently rounding up 200 people to help with a type of school for adults that folks had never heard of wasn't enough of an accomplishment to pin on Fred O.
Over the years I've heard tales that he kept tabs on when Marguerite would arrive back in Murphy. Once he knew she had returned, he knocked on her door at the Regal Hotel and said "You must build your school in Brasstown. We need a school." To which she replied "You need to make sure you understand it's not a school for children, but for adults." To which Fred O. replied "I know its a folkehojskole which is a type of school started by Nikolai Frederik Severin Grundtvig in Denmark." 🙂
While I find it hard to believe Fred O. knew who Grundtvig was and exactly what a folkehojskole is I find it easy to believe he thought the school would be good for his community and that he was willing to go out on a limb and convince his fellow neighbors to join him out on that limb bringing along their precious time, labor, and money.
A few years back I had the opportunity to prowl through Fred O.'s papers that have been donated to the Folk School. His writings clearly show he was a thinker. They also show he had a great love for the people of Brasstown and was always willing to help them whenever he could.
Tipper
p.s. To read more about Fred O. Scroggs go here.
Subscribe for FREE and get a daily dose of Appalachia in your inbox