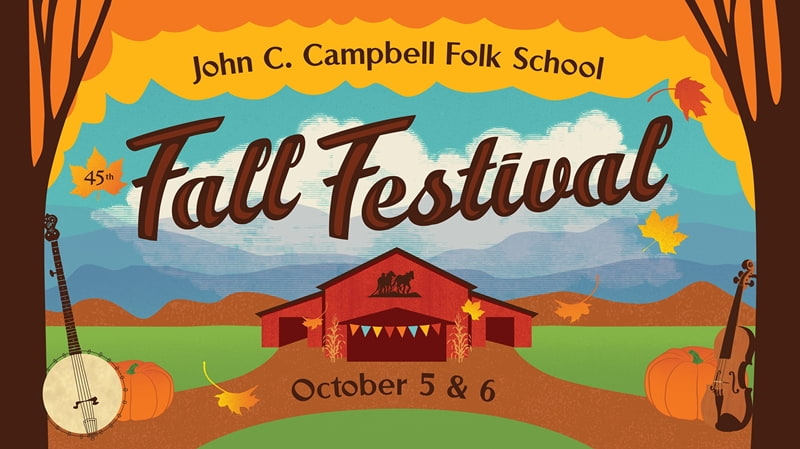 John C. Campbell Folk School will hold its annual Fall Festival October 5 & 6 from 10 a.m. to 5 p.m. Daily admission: $5 for adults, $3 for ages 12-17, and free for children under 12.
There'll be 200+ craft booths to visit; music and dancing on two stages; demonstrations of crafts like blacksmithing and woodcarving; activities for children, and plenty of food so you don't have to worry about going hungry.
I'll offer a few tips in case you've never been to a JCCFS Fall Festival before: traffic can be extremely heavy so if you plan to be at the festival to catch a certain performance you'll need to allow for extra driving time; the festival is spread over a large area which means you'll be walking a far piece from where you park; most of the walking is on trails so sturdy shoes will be your best choice of foot-wear; and while many vendors accept cards, there'll be a few who don't so you'll want to carry some extra cash if you plan on doing any spending.
Saturday is the more hectic of the two days. If you're really interested in perusing craft vendors Sunday morning is by far the best opportunity.
The Pressley Girls will be playing both days of the festival, although Paul and I will only be playing with them on Sunday.
The Pressley Girls Fall Festival Schedule
October 5, 2019 @ 2:40 p.m. Shady Grove Stage (Down near the Craft Shop)
October 6, 2019 @ 10:40 a.m. Festival Barn Stage
If you make it out to either performance please come up and say hello, we'd love to meet you.
Wish you had a free ticket to attend the festival? Leave a comment on this post for a chance to win two Fall Festival 2019 tickets. *Giveaway ends September 23, 2019.
Tipper
Subscribe for FREE and get a daily dose of Appalachia in your inbox