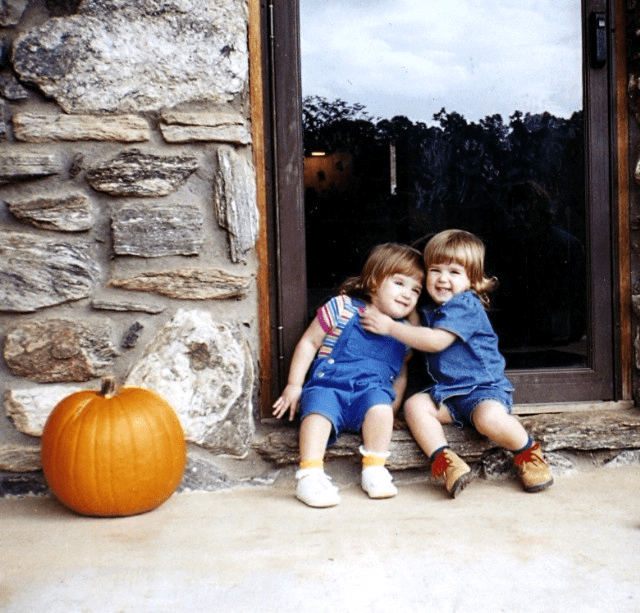 When my girls were small-one of their favorite books was about a little old lady who went out into the woods to gather plants, seeds, and nuts. Oh the girls didn't really care about the gathering part-it was the interesting characters the lady ran into along her way that they liked. The title of the book is: The Little Old Lady Who Was Not Afraid of Anything written by Linda Williams.
We always thought of the book as a Halloween book-since things kept trying to scare the lady and near the end a scary pumpkin enters the story as well. The girls discovered the book at school when they were in first grade. They enjoyed it so much I ended up buying them a copy-and we still have it.
Once I read it the first time I knew why my little musical girls were drawn to it. The book has a repetitive sing song part that occurs every time the little old lady runs into something new. By the end of the book it goes something like this:
Two shoes go clomp, clomp
One pair of pants go wiggle, wiggle
One shirt go shake, shake
Two gloves go clap, clap
One hat go nod, nod,
Over the past year I've been thinking about the little old lady and her gathering ventures. I'm guessing she used much of what she gathered in a medicinal way-at least that's the way my mind pictured her every time I read the book to the girls.
I recently met a lady, Kim Hainge, who has studied much about medicinal properties of plants that grow wild in Appalachia. It's a subject I want to know more about.
I learned about the following plants from my Foxfire books and from talking with elders in my community.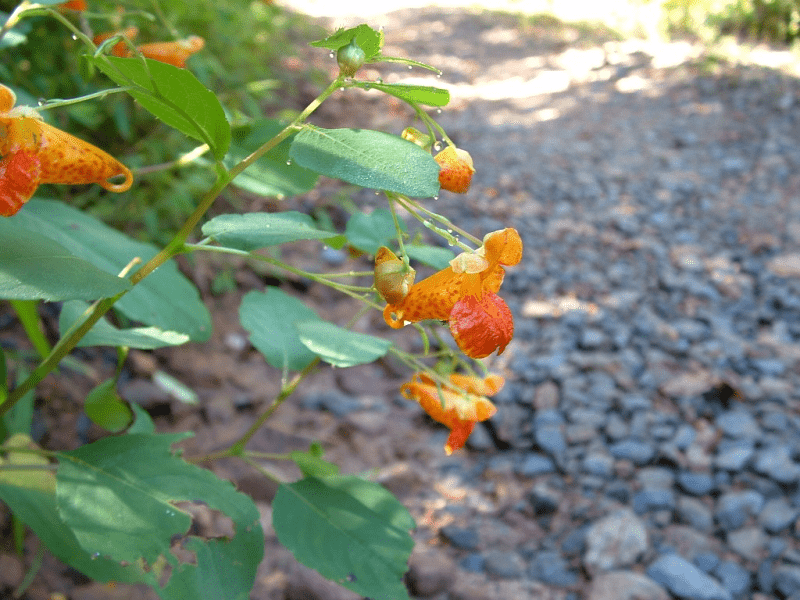 Jewelweed grows in a ditch at the bottom of my driveway. Generally the plants grow in shady damp places and can reach 2-3 feet tall. The juice of the plant is a natural cortisone and is an excellent remedy for poison oak, poison ivy, bee stings, and bug bites. Jewelweed is sometimes called Wild Touch Me Not-cause once the plant begins to produce seed pods the slightest touch will send seeds flying in all directions.
Pine Trees are common throughout Appalachia. The pine needles can be boiled to make a tea which is good for coughs and colds. Pine Resin is said to be good for cuts and abrasions. Although I've never used the resin for medicinal purposes-I can promise you it is hard to remove from your clothes or skin-it pretty much has to wear off.
Sassafras Trees grow in abundance around my house. They can reach 100 feet in height-which would make it impossible to gather their leaves. Pap said when he was growing up the leaves and roots were gathered from Sassafras Saplings. A tea was made from the roots and tender twigs of the tree. It was used as a blood builder or as a general tonic to get the body up and running in the spring of the year. A local lady, Sylvie Lee, shared memories of her Grandmother making a spring tonic each year from Sassafras with me. Sylvie said the children were never sick, and the Grandmother retained her smooth fair skin well into old age. Sylvie regrets never taking time to write down her Grandmother's recipe. I have also read too much sassafras is a bad thing.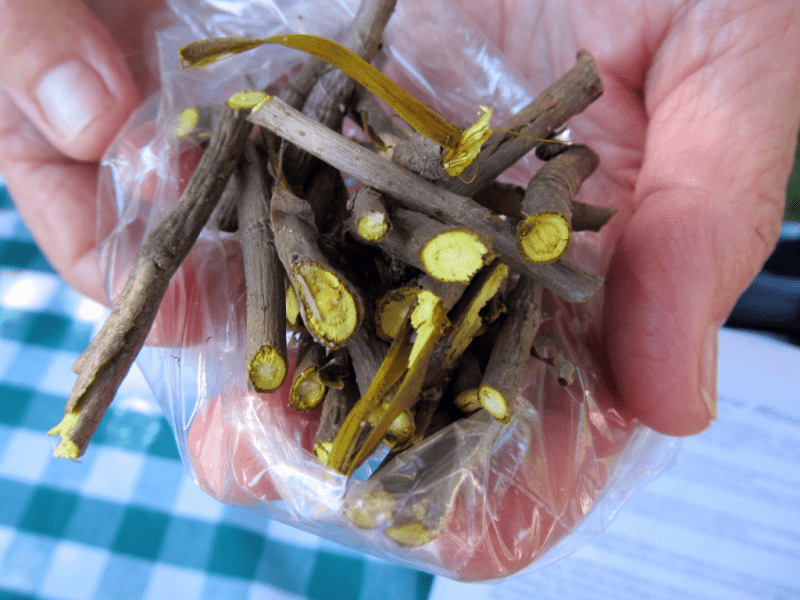 Yellow Root grows along creek banks. It is a low growing shrub like plant which is gathered for its roots. Even though the roots are very bitter tasting, they are used to brew a strong tea which is used for sore throats, stomach disorders and is said to lower high blood pressure. Yellow root is the only old time remedy I have personal experience with. Back in the day when I was a young woman preparing for my wedding I developed horrible mouth ulcers-I'm sure it was due to the related stress and worry of planning a wedding. The pain was so severe I could barley talk-and when I did talk you couldn't understand what I was saying. As the big day drew closer I began to worry that I wouldn't even be able to say "I do" clearly. Pap went to the creek and gathered some Yellow Root. We didn't even brew a tea-I just chewed on those horrible bitter roots. It actually worked, my ulcers began improving quickly.
Thoughts of the little old lady from the book have grown stronger as I've wondered more about the benefits of plants that grow wild around my house. She seems to be telling me the old ways are almost gone and I better be finding an apron and bonnet for gathering before next summer.
Tipper