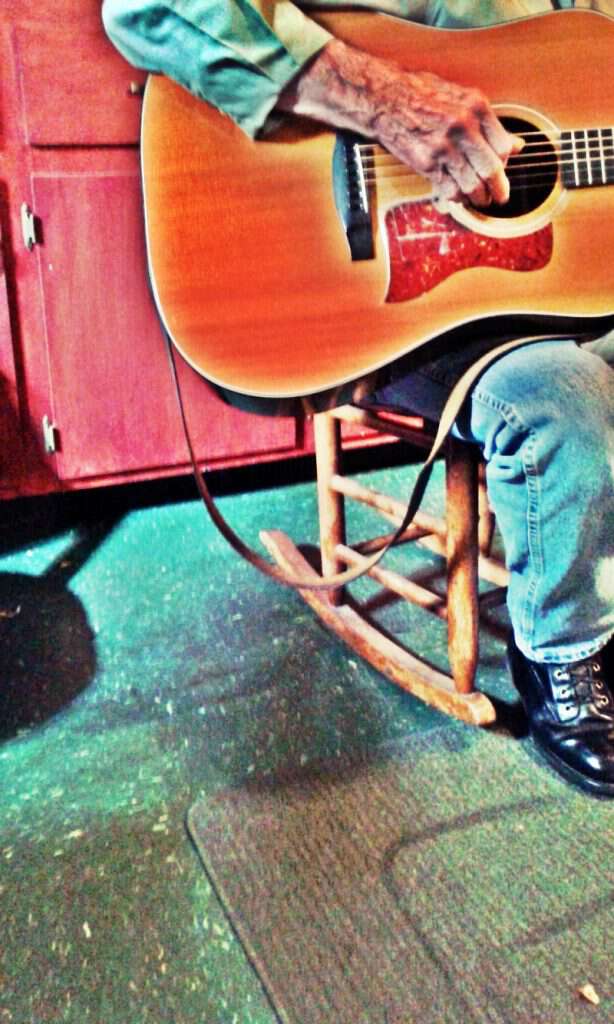 Granny and I were both with Pap when he died. He'd had a terrible rough night and had prayed aloud to God more than once for mercy. He also spoke of Job and his wife in the hours before his death.
It was at one of the first music practices after Pap died that Paul played and sung Job's God for me. I was floored by the song's lyrics which show despair, longing, hope, and faith. I was also moved by the song's title since Pap had spoke of Job just before he died.
After Pap's death and mention of Job, Paul found the complete lyrics online and learned the song. He said Pap had been trying to remember the words to the song for a good long while and could only sing a small portion of it. Pap thought he remembered Conway Twitty doing the song, but Paul said he later figured out the Conway Twitty song Pap was thinking about was a different one.
I could not get the song out of my mind. The next time we practiced I made Paul let me record it just so I could listen to it anytime I wanted to…and listen to it I did. The song became my comfort for missing Pap. In those first miserable days and weeks of grieving I'd listen to Job's God on the way to work and remind myself how lucky I was that I could look about me and see God, and how I was even luckier that when I couldn't see him, He was still there watching over me. I told myself with that knowledge I could surely pull myself together and keep putting one foot in front of the other even though all I wanted to do was go sit in some dark holler up the creek and never come out.
I researched the song for days and couldn't really find anything. I told Paul "If we ever do put Job's God up you'll get the most hits of anyone because there's hardly nobody that does the song." Hymnary.org credits the song to S. N. Greene but has no other information about Greene nor the song. I also found the song was listed in the Public Domain which usually means it's an old traditional song that no one knows the original author of.
Here's what Paul had to say about it when he uploaded the song to the Blind Pig and The Acorn Youtube Channel.
This is a song that I heard my Dad try to sing once or twice over the years. He only knew part of the first verse. The first line always struck me and stirred my imagination. After he went on to be with God, I searched online and found the lyrics. I was motivated to learn the song because Dad mentioned Job in one of the last things he said here on earth. I could not verify who wrote the song. It may be very old. Dad may have heard it from the Taylor Brothers (Marvin and Minnis, a gospel brother duet who performed in the Detroit area). Dad owned a couple of their LP's on Heritage Records. Job's God is on the LP entitled "Touch Me." The Taylor Brothers listed no author for that song. When Dad sang the one verse as a solo, he sang it very high, in the key of A. I can come close to the that key if I start low and work my way up, hence all the key changes (from Eflat gradually rising to Aflat). This song has powerful lyrics.

Lyrics:

I can feel the hand of Satan as a tempter pressing sore.
He has been before the Father, asking leave to press me more.

Though God slay me, yet I'll trust Him.
I shall then come forth as Gold,
And I know the redeemer liveth.
I can feel Him in my soul.

I can hear the Father granting, saying, "You'll not touch his life.
Though you crush him, he'll not falter. He will rise above the strife."

Though God slay me, yet I'll trust Him.
I shall then come forth as Gold,
And I know the redeemer liveth.
I can feel Him in my soul.

Though I stumble, I'll not stagger. By His Grace, I'll make it through,
For His Grace is all sufficient, and I know that God is true.

Though I look all about me, and His face I cannot see,
Still I know that through the darkness, He beholdeth even me.

Though God slay me, yet I'll trust Him.
I shall soon come forth as Gold,
And I know my redeemer liveth.
I can feel Him in my soul.
I hope you enjoyed the song. It has been well received when we've performed it over the last several months. When we did the song at the Historic Union County Courthouse in Blairsville GA an elderly gentleman, whom we had never met before, approached Paul after the show to ask if he'd be willing to come to south Georgia and do the song at his funeral. Paul told him yes he'd try his best to do just that.
Tipper