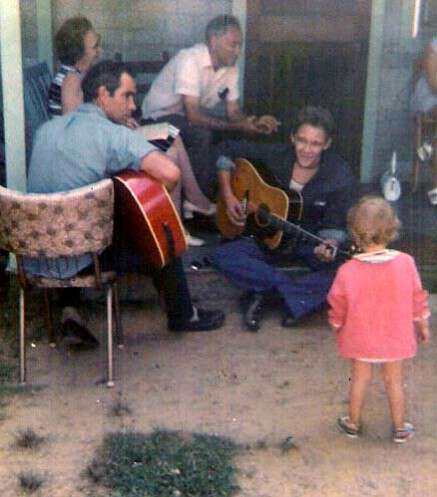 As long as I can remember, I've been surrounded by music-I'm the little girl in the picture above. Pap is in the chair and my cousin Ricky is sitting on the edge of the porch. The setting-Sunday after church at my Granny, Gazzie's, house.
My first musical influences came from 2 places-church-and folks sitting around making music just for the pure enjoyment of it-like in the photo above.
The Louvin Brothers were also a musical influence on my early childhood. Pap was-and is-a huge fan of theirs. They sang in the classic brother duet style. I grew up hearing about them-like they were folks who lived just down the road. Stories of how Ira used to hold Charlie between his legs and force him to sing when they were kids-of Ira's notorious temper and how he smashed Mandolins on a regular basis-of the tragic ending of the brother duet that occurred when Ira was killed in a car accident. I've always felt like I knew the Louvin Brothers personally-even though I've never met them-but Pap did meet Charlie.
Pap and his brother took off to Nashville in the late 60's-they wanted to make contact with someone to see if they had a chance at making music for a living. Since Charlie Louvin was a hero of theirs-that's who they sought out for advice. He treated them right-gave them some advice-which included "Boys you can never make it in this business and cut pulpwood too-you gotta make a choice." He even tried to get them to stay and perform on his Grand Ole Opry Show (seems they were pretty good musicians). But they didn't. Their first excuse- they didn't have their instruments-(who goes to Nashville and doesn't take their guitars!!!). Charlie said they could use 2 of his. Their second excuse-they didn't even have enough money to buy a hamburger on them.
I used to wonder-if Pap had played on the Grand Ole Opry would my life be any different-you know would it have altered the course of Pap's life by jump starting a musical career for him and my Uncle Ray? Who knows?
The Louvin Brothers-gave so much to Country and Gospel music-they were not only tremendous musicians and vocalists-they wrote some of the best songs ever recorded.  I don't think their music gets the credit it deserves.
A couple of years ago one of their songs was given a new lease on life "How's The World Treating You". Allison Krauss and James Taylor did a cut of the song for an album dedicated to The Louvin Brothers-but in a weird turn of events-most of the credit is given to Krauss and Taylor for their version-while The Louvin Brother's version is overlooked.
For this week's Pickin' & Grinnin' In The Kitchen Spot-Chitter and Chatter give the old song a try-the girls were inspired by the Krauss and Taylor version-but they've been given a detailed lecture on The Louvin Brothers from their Momma.
Hope you enjoyed the song-so what was your first musical influence?
Tipper