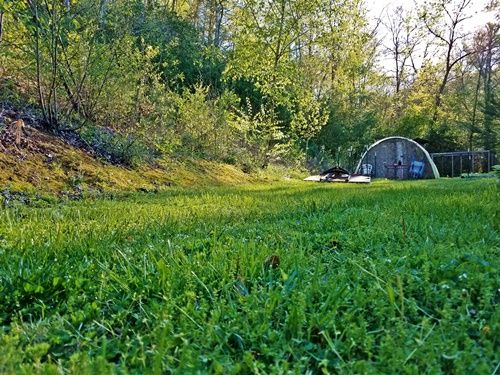 Tamela: Green-up always happens with a flourish around here. There is a pinkish-greenish haze for a while which lingers as long as the spring warming spells are brief and not to warm. Then, one day you see that a few trees have new frocks and before you know it the entire woods are decked out in new finery; this usually occurs near a windy time so the trees seem to be swirling their skirts and shawls as they dance in the wind.
Carol Stuart: I have heard "greening up" my whole life. "Look how things are greening up! Spring is here for sure." Have heard this in both WV and in VA.
PinnacleCreek: Green up used to sneak up on me when I traveled daily. I would get caught up in the "cares of the world"and not notice– would want to kick myself. Actually the time that got me excited was early spring when the mountains would take on a slight smoky rose color from the kazillion of new buds. Probably only exciting to me, but I knew Green up was close. I have lived where there were no seasons, and I will now be grateful even for a harsh winter that promises relief come Spring.
Ethelene Dyer Jones: "Have you noticed? It's greening up!" That was a common expression among my Scots-Irish folks in the mountains of Choestoe Community, Union County, Georgia I like the time of early spring, even maybe seeing some green-up happen when frosts and/or snow still threaten. One year in May, my father had his fields of corn planted and the rows looked lush with green-up growth, the plants abundant, an inch or two high. Then a hard freeze–frost and maybe even snow–came to obliterate the green. The whole field had to be planted again after the cold snap passed. That's part of the unpredictability of spring weather in our beloved mountain area. Green up can occur early; and then have to burst forth again.
Chuck Howell: Asheville town, Asheville town I'm goin back to Asheville town I'll sit & watch the leaves turn brown Back in Asheville town
Asheville town, Asheville town Prettiest town I've ever seen I'll sit & watch the leaves turn green Back in Asheville town
More verses to come,
Love from Uncle Chuck
Don Casada: One of my favorite aspects of greening up is the up part here in the mountains. You need to be at a place where you have a view of a mountainside with a couple thousand or more feet of elevation range. Down at the lower elevations, the trees will have taken on their dark summer hue, The shade of green grows lighter and lighter as you look up the mountain until there's but a faint hint of green that's taken holt in the warm pocket on the south face of a hollow.
Above that, occasional splotches of white-pink from sarvis blooms or maple seed reds show all the more brightly against the unashamed naked browns and grays at the higher elevations.
How sad it must be to live in a city surrounded by things made by man.
Flowers springing, birds singing, mountains greening, and the gloaming lingering are reminders that in spite of all the craziness in this world, the One who made it is still in control, as Robert Browning asserted a couple of centuries ago:
The year's at the spring,
And day's at the morn;
Morning's at seven;
The hill-side's dew-pearl'd;
The lark's on the wing;
The snail's on the thorn;
God's in His heaven –
All's right with the world.
—-
Tipper
Subscribe for FREE and get a daily dose of Appalachia in your inbox