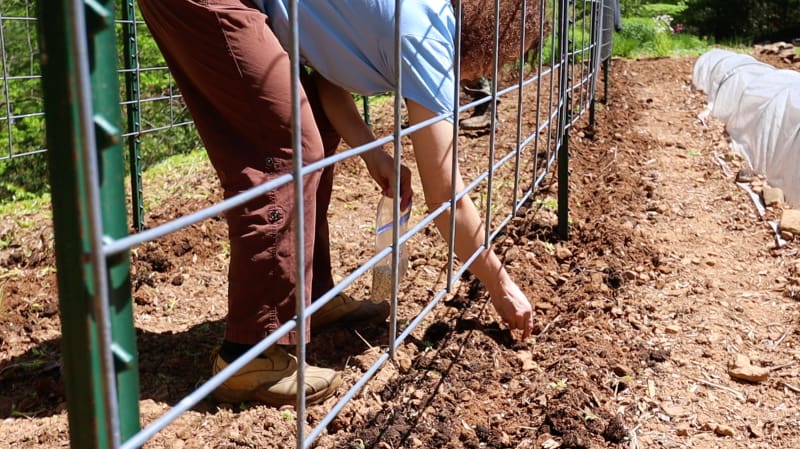 We love to grow Greasy Beans, also called Greasy Back Beans. When I was growing up Granny and Pap mostly grew White-Half Runners. In the last several years Granny has decided Cornfield beans are her favorite to grow.
Someone sent me some Turkey Craw Bean seed so I'm anxious to try them this year. And one of Granny's friends said she grew Rattlesnake Beans for the first time last year and just loved them so Granny wants us to give them a try too.
In my latest video I shared some of the bean planting folklore I've gathered over the years and we got most of our beans planted with the accompaniment of Chitter's fiddle 🙂
Here's the bean planting folklore:
*When planting beans press the soil with boot for good luck. (We always do this one. I love to see The Deer Hunter's boot prints on the rows we plant-I used to like to see Pap's too)
*Plant beans in the middle of the day for a better yield.
*Beans planted on dark nights will grow the best crops.
*Plant beans early in the morning if you want to have the crop come in earlier in the season.
*Plant beans when the elm leaves are as big as a penny.
*Beans planted during a leap year will produce more than usual.
*Putting bean hulls in the path will make vines grow profusely.
*Plant beans in new ground, or under a tree, and there won't be any bugs on the vines. (Not sure how they'd do under a tree, but we've planted in new ground with good luck)
*Beans planted on the full of the moon will begin bearing at the ground and bear all the way up.
*Plant beans on a full moon in April.
*If beans are planted on Good Friday, they will grow well.
*Plant cornfield beans from June first to the fourth Saturday in June.
*Beans should not be cultivated during the dog days, as the beans will all drop off.
*It is bad luck to give bean seed away.
I hope you enjoyed the video! I'm thinking this year's bean patch will be the best we've ever had—how could it not be when the seeds were started with fiddle music 🙂
Help me celebrate Appalachia by subscribing to my YouTube channel!

Tipper
Subscribe for FREE and get a daily dose of Appalachia in your inbox