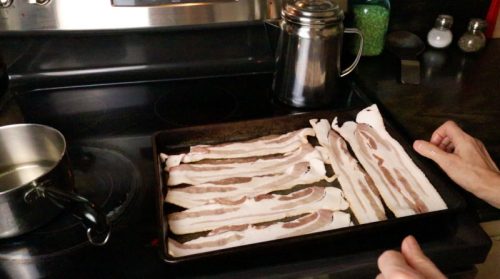 A few years ago my friend Ginger told me she'd started cooking bacon in the oven. I said "Really?" She quickly convinced me I should too.
I don't recall what temperature she said to use, but I'm usually in a hurry and set my oven to 400 degrees and put the pan in as it pre-heats. Ginger used parchment paper as a liner on the pan and I did for the first several times, but quickly started using just the bare pan.
It takes about 15 minutes for the bacon to cook to our liking, but you need to play around with the timing to adjust to your preferred bacon crispiness. And just like when you're frying bacon, it can quickly get over done so you need to keep an eye on it.
The bacon fat and little crispy pieces easily pour out of the pan if you'd like to save it for later use or pour it in a frying pan to make gravy.
Ginger was right about how easy it is to cook bacon in the oven and that's pretty much the only way I cook it these days.
Tipper
Subscribe for FREE and get a daily dose of Appalachia in your inbox