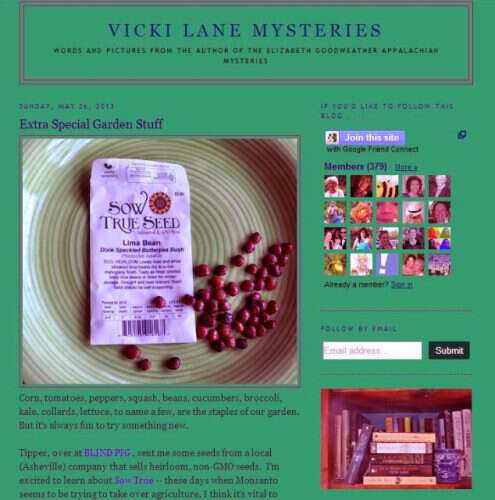 I'm not sure how I stumbled upon the writing of Vicki Lane-I think it was when someone told me about her blog. I soon realized she lived in the mountains of NC just like I did-even better she lived in the county my Papaw was from-Madison-and near the little town of Marshall that Pap was named after. As I poked around her site-it became evident that she and I had much in common-but topping the list was our love and devotion to the culture of Appalachia.
Once I got my hands on Signs In The Blood, the first book in Vicki's Elizabeth Goodweather Series-I became a fan for life. After I read the 2nd book in the series-Art's Blood-I realized there was only one thing wrong with Vicki's books. She would never be able to write them fast enough to satisfy my desire to read them.
Yesterday Vicki's latest book The Day Of Small Things debuted-I thought this would be a great time to interview her. Check out what she has to say-and stick around till the end for a chance to win a copy of Vicki's new book:
——————————–
Have you always liked to write? Did you grow up with a determination to be a writer professionally or was it just a personal hobby that turned into a job?
I have always liked writing — I was an English major and in high school and college I harbored visions of myself as a writer. But I didn't do much about it beyond one creative writing class where I wrote a really awful short story. Marriage, family, teaching, children, the move in '75 to our mountain farm — all these things kept me too busy even to think about writing. It wasn't till 2000 that things slowed down a bit and I decided to take a class called 'Writing Fiction That Sells' at a local community college.
How/why did you decide to write your Elizabeth Goodweather series and set the scene in Appalachia?
In that class I just mentioned, the instructor suggested that we begin a novel — choose a genre (say, Western, Romance, Chick Lit, Mystery) and a setting and a main character. Then for each assignment (setting, dialogue, love scene, etc.) we would write a bit of this proposed novel. Well, I couldn't think of a better place to write about than where I live — after all, I knew it pretty well by then and I knew, too, how rich in possibilities these mountains are.  It was as if I'd been doing research for the past twenty-five years and now it was time to write. I chose the mystery format because I was familiar with it, having grown up on Nancy Drew and moved on to Agatha Christie and many others. I made my main character a woman in her fifties — feeling that it might be nice to have a strong, vibrant older woman rather than a hot chick in high heels.
I've enjoyed the little tid bits of advice you offer to other writers on your blog-how the entire process of publishing a book is harder than most folks realize-could you skim over that issue and tell if it's worth the hassle in the end?
How can I get published? is a question aspiring writers often ask me. I can only answer in a general sort of way about novels (the rules are different for non-fiction, poetry, and children's fiction.)
If your goal is to be published by a big, mainstream publisher who has wide distribution, then you're going to need an agent.  And you don't 'hire' an agent — instead you send out queries (email or snail mail) telling them about your novel, in hopes that you've piqued their interest sufficiently to want to read more and, eventually, offer to represent you. The really big publishers do not accept unagented submissions. (There are smaller legitimate publishing houses that will deal directly with the author.)
But isn't it impossible to break into the literary world if you've never been published or don't have the right connections? is the next question those aspiring writers ask. And I tell them that I am proof that it's possible — I had NO connections and the only publication to my credit was the book on quilting. (This sort of publication credit means less than nothing to agents and publishers of novels.) I sent out over sixty query letters in the space of three months before finding an agent who wanted to represent me. It's not a quick and easy process for most. So then those same aspiring writers sigh and say it sounds like a long and tedious process and ask about self-publishing.
Self-publishing works well for people who have written a work that is probably going to have a limited audience.  It's wonderful for a family history or a novel of only regional interest. A major downside of self-publishing is that you don't get nation-wide distribution. It's totally up to the author to get the books into bookstores. There are other downsides but still there are those who are passionate advocates of self-publishing.
Is trying to get published the traditional way worth the hassle? Well, I haven't made much money. But my last book was nominated for an Anthony (a major mystery award) which was a real ego boost. And it's been a lot of fun finding myself a published author with readers all over the country — actually all over the world as my first two books have been translated into French. Hearing from these folks is wonderful! So, yes, for me, it's worth it.
Do you write other genres besides fiction? Have they been published?
Only a couple of books on quilting, under my married name (Vicki Skemp) and with a co-author.
How long will the Goodweather series run-do you know or do you just play it by ear? (Personally I hope forever)
I have had three two-book contracts. I hope my editor will be interested in more Elizabeth Goodweather books, but it has a lot to do with whether the series is making a profit for the publisher. They'll undoubtedly be looking at sales figures on this current release. I do have many more stories about Elizabeth left to tell.
Seems a characteristic of your books is tying an old story into present day-why or how did this way of bringing the story to life appeal to you?
Signs in the Blood, as originally written, didn't have the historical story about Little Sylvie. The editor who eventually bought it felt that it needed something more — and in a flash I remembered a story I'd been told. This became the Little Sylvie subplot. And I discovered I really liked this skipping back and forth in time and story — I think that one deepens the other.  Art's Blood's subplot was in the Twenties, Old Wounds went back to 1984. I really enjoyed writing about The Drovers' Road just before the Civil War in my subplot for In a Dark Season.
 My new book The Day of Small Things doesn't have the historical subplot. Instead it begins in the Twenties and goes through to the present day. But my next book — another Elizabeth Goodweather book — has a subplot set in Hot Springs in 1887. I dearly love writing about the past. And isn't it always the case that secrets from the past can grow and fester till they erupt in the present? It's a useful thought for a mystery writer.
I know you've lived in Western NC for many years-but do you still need to research customs, traditions, dialect that is true to Appalachia Culture?
Sometimes, for something very specific, such as Appalachian medicine or Witchy Women or Cherokee folklore, I rely on books and the Internet. And my ears are always open for new and interesting turns of phrase. I learn a lot right here on The Blind Pig and the Acorn, as a matter of fact!
Do your neighbors ever wonder if they are in the books?
There are some who know they are and some who suspect. So far, no one has complained.
Where can folks find your books?
They are in many bookstores and libraries, especially here in western NC. (If they're not in yours, you can ask your bookseller or librarian to order them.) And they're always available on line at Amazon or Barnes and Noble.
Is there anything else you'd like to tell my readers?
I always issue the disclaimer since I've only lived in Madison County for 32 years I'm a transplant — one of those "damn Florida people." I can't pretend to know Appalachia like a native but I can bring to my efforts at depicting mountain culture, the eyes and ears of one to whom Appalachia is utterly fascinating — at times as familiar as the memory of my grandmother's voice, at other times as indecipherable as a song in an unknown tongue, heard at a distance.
I like to think that my protagonist Elizabeth Goodweather and I have put down roots that grow deep and take nourishment from our adopted home.  We may be Florida people but at least we saw the error of our ways and moved to the mountains where we learned to raise tobacco, plow with mules, milk cows,  and butcher pigs and chickens. We got to know our older neighbors and tried to learn from them, to work with them. Rather than sealing ourselves away in an exclusive compound comprised of other newcomers, we tried to make a place for ourselves within the existing community.
And how much there is to learn from that community! Folks who have lived on and with and by the land for generations have a wisdom that can't be found in books.  They are attuned to the weather, the seasons, the phases of the moon in a way that at first seemed almost uncanny to someone like me — one who grew up in suburbia where central heating and air conditioning make weather almost irrelevant and the moon is only occasionally glimpsed through a web of power lines and television antennas.
Can you sum up what Appalachia means to you?
Green mountains and deep hollers . . . pure spring water . . . pride of heritage . . . love of the land . . .  ballad singers with their songs that have been handed down in their families for seven and eight generations . . .  greasy cut-shorts and candy roasters . . .  Decoration Day in a family cemetery on a hill . . . old tobacco barns . . . string bands . . . fierce independence of opinion, in religion as in other matters . . . family ties . . . cornbread . . . gardens . . . Cherokee and Scots-Irish and all the newcomers who are adding to the mix . . . and most of all — HOME. 
——————————
After Vicki's little disclaimer-I felt like I should give my own disclaimer. I've been a book worm since I was a kid-I love fiction written about all sorts of different places and people. However, as you would imagine I'm partial to fiction written about Appalachia. Vicki Lane may be a 'new comer' (32 years ago) to Appalachia-but she gets it. I've read all of her books-and each one has characters so vibrant and real that I'd swear they lived over the mountain in Pine Log or that I went to Elementary School with them. When it comes to portraying the living breathing Appalachia-Vicki Lane gets it right.
I hope you enjoyed my interview with Vicki Lane-and if you like fiction-mysteries-or Appalachia and haven't read one of her books-I highly recommend you do. Vicki has kindly offered to giveaway a copy of her newest book-The Day Of Small Things-to a lucky reader of the Blind Pig.
To be entered in the giveaway-all you have to do is leave a comment on this post.
Tipper