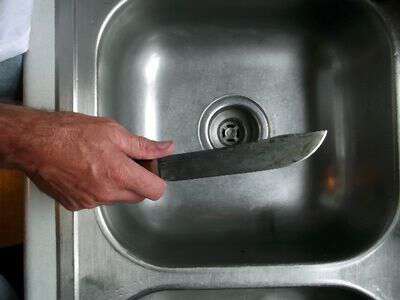 A man without a knife is not worth a wife.
If the quote above was true I wouldn't have to worry one bit because my husband has lots of knives and wishes he had even more!
Being an outdoorsman The Deer Hunter grew up knowing the need of a good knife. But somewhere along the way his need-grew into a full fledged love affair.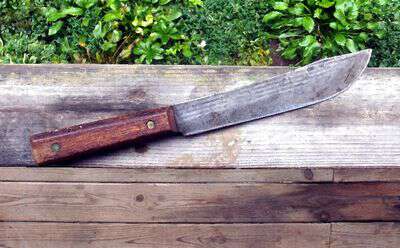 The Deer Hunter's love of knives leans towards folding pocket knives but he would be the first to tell you he likes knives of all shapes and sizes. His criteria for liking a knife: it must have a good feel; and it must be sharp.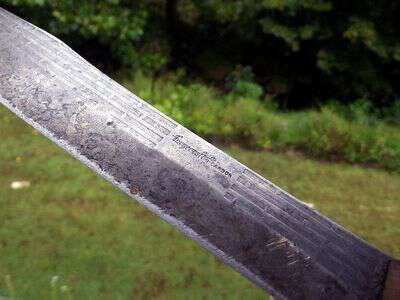 Miss Cindy knows all about The Deer Hunter's love of knives. She's always on the look out for knives she thinks he might like. Recently she scored the knife in the photo above at a yardsale. On first glance you'd think it's nothing special-just an old wore out kitchen knife.
But the second The Deer Hunter put his hand around the knife he told Miss Cindy she did good.
The knife is a Forgecraft. Reading through a thread on this Kitchen Knife Forum I discovered the Forgecraft Company went out of business in 1968. There was quite a bit of Forgecraft stock being stored when the company shut its doors so the knives continued to be sold for many years-even though according to the forum they have not been made since 1968. The forum goes on to say retired band saws from sawmills provided the steel for many of Forgecraft's knives.
Forgecraft and many other companies made (and still make) knives from carbon steel. The most popular choice for knife blades today is stainless steel. Carbon makes for a very sharp knife, however it also rusts easily and quickly becomes stained. Stainless steel is much easier to keep clean and isn't as likely to rust-however stainless steel is also much harder to sharpen once it becomes dull.
The nicest thing about having a husband who loves knives-my kitchen knives are always sharp.
Tipper
*Source: Knife quote from The Frank C. Brown Collection of NC Folklore