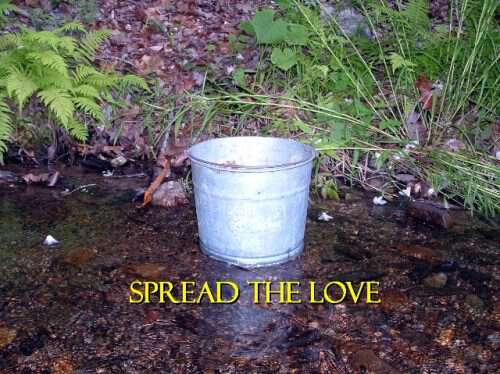 Time for June's Spread the Love. I'm sending each one of you great commentators at least a bucket full of love so hope your ready to catch it!
Susan, Miss Cindy, Stacy A, Brit, Dana, Mandi, Amy, Em, Teresa, Paula, Leslie, Lisa, Jennifer in OR, Renna, Trisha Too, Noble Pig, Deb, Patti, Egghead, Writer Lady, Meredith, Janera, Jessica, Sarah, Beckynsc, Ms. Hillbilly, Carrie, Threecollie, Joan, Granny Sue, Valarie Lea, Christina, Irma, Debbie, Kathleen, Carolyn, Cathy, Farm Chick Paula, Renaedujour, City Mouse Country House, Razor Family Farms, GA Farm Woman, Dina in Jerusalem, Dejoni, Mary, Farmchick, TwoSquareMeals, Applie, Julie at Elisharose, Melanie, Joan Cannon, Julie O'Neil, Kari & Kijsa, Sandra Evertson, Betsy, Sam, Erica Burgan, Jewel Girl, Nana Pressley, Sandy Carlson, Paul, Carolyn A., Marlene, The Park Wife, The Joy of Christina, Dawn Dee, The Texican, Pam, Shirley, Cowboys, Kids, & Sunsets, Mark Salinas, Sarah, Ebaylo, Carletta, The Fishing Guy, Marci, and Treasia
I thank each of you for contributing to my blog and truly making it a better place to visit!
This month I had a special helper pick the winner. My niece-who has decided since her cousins are Chitter and Chatter-she is going to be Cheddar! So Sweet Cheddar picked this months winner. (Cheddar is Mandolin Man and Guitar Man's little sister)
And the winner is…..
Renae du jour! This month's prize is a set of 6 greeting cards handmade by me!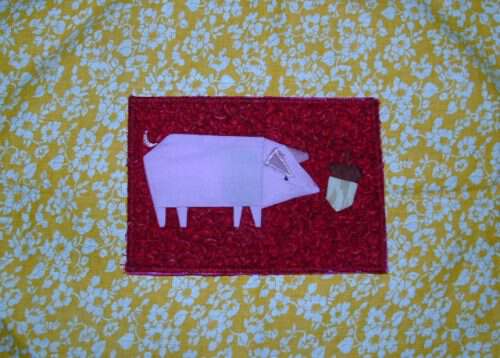 Today when I opened my mailbox, I found some love in there too.
Patti from Osage Bluff Quilter sent me this adorable quilted postcard of a Pig & Acorn. I love love it-thank you!! I hope you will take a trip to the Osage Bluff Quilter site and pay Patti a visit!
Thank you all for commenting this month-and Spread the Love for July started today-so comment!!
Tipper
p.s. Most of my commentators have sites of their own-click on their names and go for a visit-I know you'll enjoy your stay.