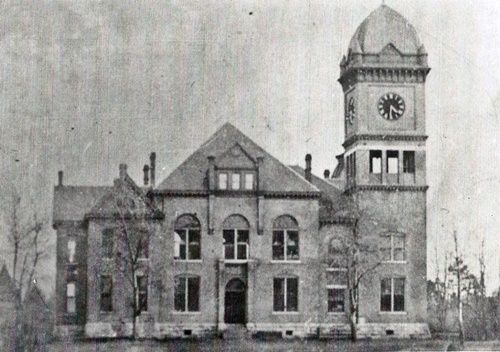 Cherokee County Courthouse – Photo from "Marble & Log – The History & Architecture of Cherokee County, North Carolina" produced by Cherokee County Historical Museum Council 1984
"The best reflection of the public spirit of optimism of the 1890's was the courthouse built during that decade. The new courthouse was built in 1891 on a larger site, a block from the town square. In 1895, the structure burned, but the brick walls were left intact, and the courthouse was reconstructed the following year in the same form. While the previous courthouses had been grand compared to their surroundings, the courthouse built in the 1890's was unlike anything that had been seen in Cherokee County. The large Asymmetrical Romanesque style brick courthouse featured two front towers, the larger containing a belfry and enormous clock."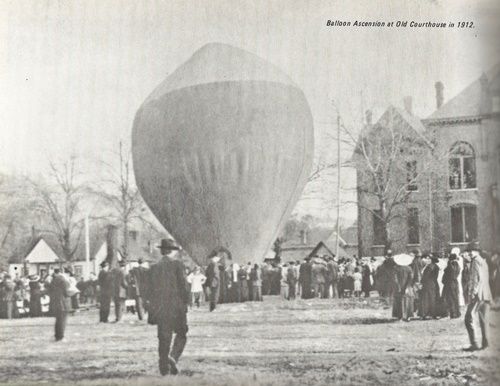 Balloon Ascension at Cherokee County Courthouse – Photo from "Marble & Log –
The History & Architecture of Cherokee County, North Carolina" produced by
Cherokee County Historical Museum Council 1984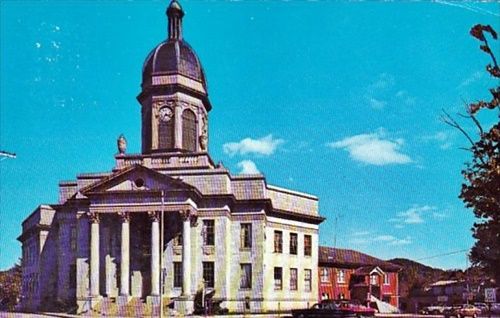 Old postcard of Cherokee County Courthouse
"For those who saw their town change rapidly with the coming of the railroad and the introduction of the automobile, it must have seemed that growth would continue indefinitely. When the grand Romanesque courthouse built in the 1890's burned to the ground, plans were made for an even grander design. The courthouse designed by James J. Baldwin was a sophisticated, neo-classical structure with a monumental cupola. It was constructed in 1926-1927 on the site of the previous courthouse, although the entrance is turned 45 degrees toward the square. The courthouse was built of rich, and local material. The whole building is faced in Regal blue marble quarried from the deposit located along the Valley River, between Murphy and Andrews. It was the first use of this marble other than for monuments and for decoration."
— Excerpts from"Marble & Log – The History & Architecture of Cherokee County, North Carolina" produced by Cherokee County Historical Museum Council 1984
—-
Recently the courthouse has been on all our minds.
The cupola was in disrepair and had to be taken down about two years ago. The Cherokee County Maintenance Department along with a local Coppersmith figured out how to save the historic piece.
Last weekend they were able to place the cupola back where it belonged. Drop back by one day next week I'll tell you more about the project.
I remember reading bricks from the last courthouse fire were used in the construction of John C. Campbell Folk School's original buildings. At least I think I read that 🙂 Hopefully someone will chime in and tell me if it's true or not.
Tipper
Subscribe for FREE and get a daily dose of Appalachia in your inbox