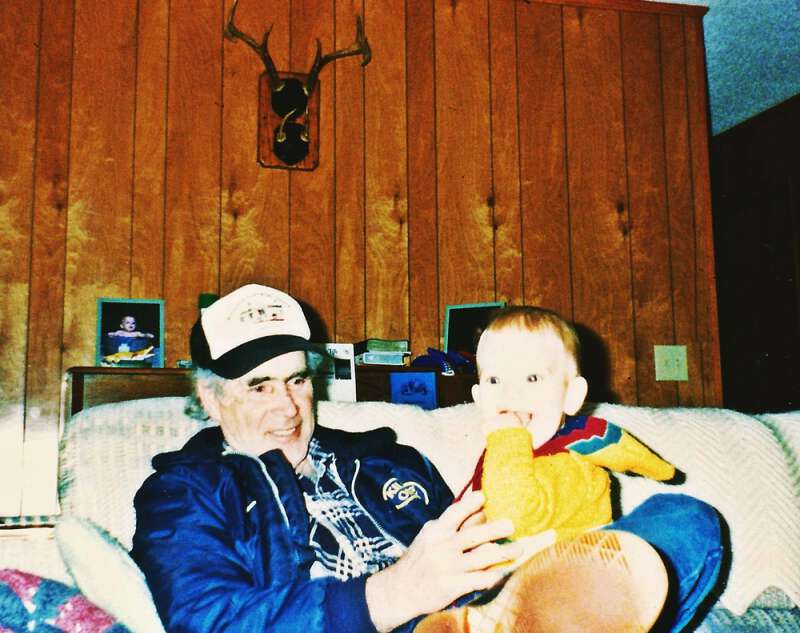 Pap and Ben
I'm going way back in the history of the Blind Pig and The Acorn to share this week's Pickin' and Grinnin' in the Kitchen Spot. The video is of my oldest nephew Ben picking out a great tune written by David Grier – Engagement Waltz. The video was filmed over 9 years ago.
I've had Ben on my mind a lot this week. He and his sweet wife gave birth to a beautiful healthy girl, Margaret Evelyn.
Months ago the baby was given the name of three of her great-grandmothers so she was bound to enter this world a little bit ahead if you ask me. To say we're all crazy about her is an understatement.
Way back when Ben came along he was Granny and Pap's first grandchild. His birth made Paul an uncle and me an aunt for the first time. We were all wild about him!
You've probably heard the saying about how the first child gets a picture taken of every little thing they do while the children who follow mostly get school, birthday, and Christmas pictures taken of them. That was sure true for Ben. If his mother wasn't taking pictures of him Granny or I was.
Ben was the center of all our lives. With Pap, Granny, Paul, The Deer Hunter, and me he had a whole tribe of adults to spoil him-not to mention his momma and daddy. Similar to the first baby picture overload phenomenon, we remember all sorts of things Ben said that we thought was cute yet I can't hardly remember anything his sweet sister and brother said.
Every time we eat a bologna sandwich The Deer Hunter or I am likely to say something about ba-bonie and kook-aid because that was one of Ben's favorite things to eat and drink. And even if I'm alone and notice it's coming a down pour of rain I think to myself 'it's a yaining it's a yaining' because Ben said that too! Somewhere along the way he started saying his name was Be-bo so we all took the cue and started calling him Be-bo. I taught him to feed his riding horse Ole Paint grass and I taught him all I knew about grasshoppers.
I don't remember if it was when Pap died or later that summer when Ben's other grandfather Robert died, but we were all gathered up watching old home movies. We came to Ben's first birthday party. The house was full and he was opening one present after the other. Just a few minutes later the scene changed to another first birthday party…for Ben. His brother Mark said "Are you kidding me??? He got two parties???" As Mark fussed about the injustice of the way Ben was treated as a child compared to how he was treated we all got a good laugh. Truthfully Mark and April are just as precious as Ben. There is just something about our human nature that remembers and recalls that first baby that first grand-baby or for me that first feeling of becoming an aunt or in this case an Auntie Titter for the first time.
Ben was still in high school when we filmed this video. Now he's the daddy of a sweet little girl who made me a great aunt and Granny a great grandmother for the first time. At the very end of the video you can hear Pap say "That's pretty good Be-bo." I think Pap would say the same thing about little Margaret.
Tipper