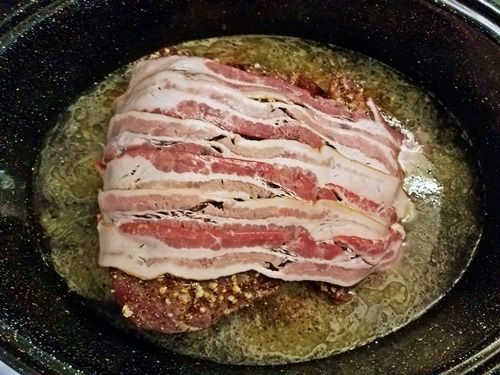 Even though we love to can the deer meat The Deer Hunter harvests, he always leaves a few hams whole for us to cook. We always have one at Christmas and at Thanksgiving and every once in a while we'll have one during the rest of the year.
I never enjoyed deer meat until I met The Deer Hunter and Papaw Tony. They knew how to cook it right, and more importantly they knew how to harvest the meat right. The Deer Hunters says the taste of the meat starts the instant you take the deer.
Papaw Tony learned a basic recipe for cooking a deer ham from a lady down in Georgia where they hunt. Over the years The Deer Hunter has tweaked it to his liking.
Place deer ham (roast) in a roasting pan or other baking dish. Pour about a half an inch of water around the ham.
Place a stick of butter and a tablespoon of minced garlic in a pan and cook until butter is melted. Pour mixture over deer ham.
Season ham with salt, pepper, old-bay, and oregano.
Cover ham with bacon. Toothpicks can be used to secure the bacon strips and keep them from curling up as they cook.
Drizzle with honey and a dash of apple cider vinegar.
Cover deer ham and bake at 220 degrees for nine hours.
The Deer Hunter usually puts his ham in the oven about nine o'clock at night and by morning its done.
If I wake up in the night I can smell the wonderful aroma of the deer ham. It'll about starve you to death just smelling it. We all love deer hams, but I believe Paul likes them most of all. He said if he ever had to request a last meal it would hands down be The Deer Hunter's deer ham.
Tipper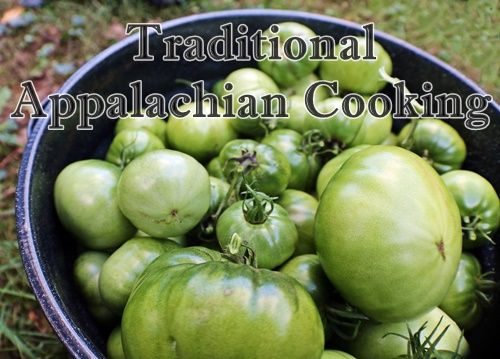 Come cook with me!
MOUNTAIN FLAVORS – TRADITIONAL APPALACHIAN COOKING
Location: John C. Campbell Folk School – Brasstown, NC
Date: Sunday, June 23 – Saturday, June 29, 2019
Instructors: Carolyn Anderson, Tipper Pressley
Experience the traditional Appalachian method of cooking, putting up, and preserving the bounty from nature's garden. Receive hands-on training to make and process a variety of jellies, jams, and pickles for winter eating. You'll also learn the importance of dessert in Appalachian culture and discover how to easily make the fanciest of traditional cakes. Completing this week of cultural foods, a day of bread making will produce biscuits and cornbread. All levels welcome.
Along with all that goodness Carolyn and I have planned a couple of field trips to allow students to see how local folks produce food for their families. The Folk School offers scholarships you can go here to find out more about them. For the rest of the class details go here.
Subscribe for FREE and get a daily dose of Appalachia in your inbox